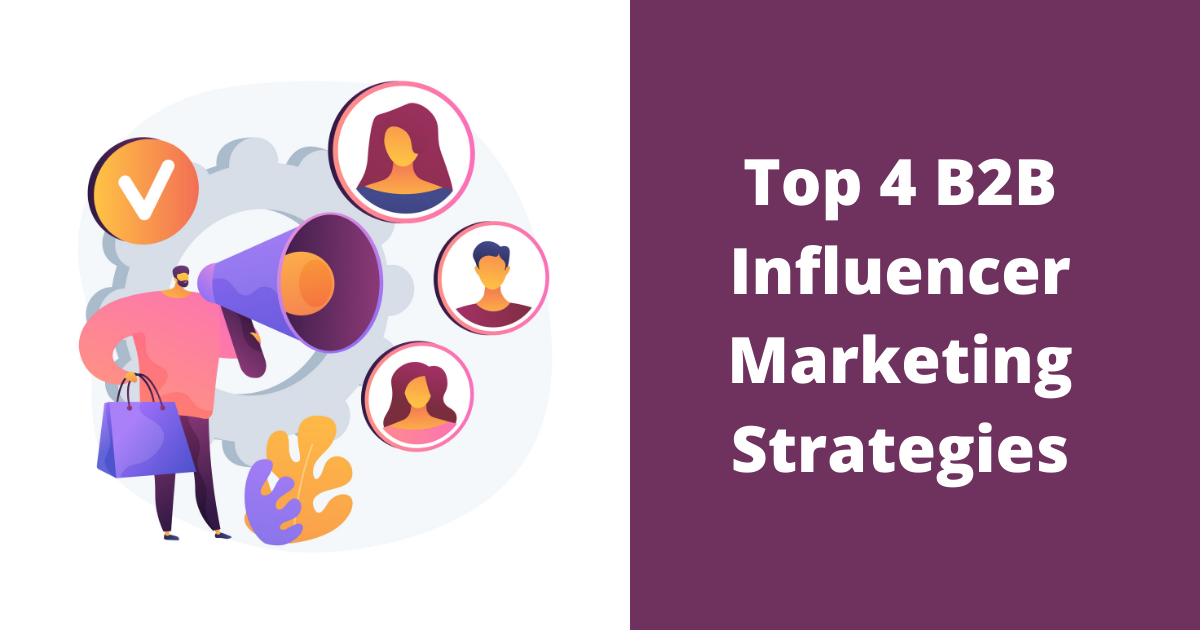 The phrase "influencer marketing" conjures up thoughts of a food, fitness, or fashion influencer with millions of Instagram followers who promotes brands and holds contests. This may be true, but B2C isn't the only industry where this method is gaining traction. Given the scale of agreements, the complexity of the buying process, and the current COVID-19 crisis, include B2B influencers in the marketing mix with B2B Influencer Marketing strategies has become increasingly important. Indeed, influencer marketing is gaining traction as one of the keys of B2B marketing strategies, with impending trends such as the emergence of micro-influencers, a shift toward specialization, and even the rise of staff influencers.
Influencer marketing tactics are applicable to businesses of all sizes and sectors. For example, GE gave six relevant influencers a tour of its R&D center and the chance to share rare behind-the-scenes access with their 3.5 million Instagram followers. The #GEInstaWalk was a huge hit, with over 200,000 social engagements in the first 48 hours.
Getting B2B influencers to share or advocate for a product, service, solution, or company can raise awareness, cultivate interest, and increase the likelihood of a sale. So, what are the fundamentals of B2B influencer marketing, and how can businesses use it to their advantage?
Any regular shopper or business leader in today's rapidly modern world is more demanding, tech-savvy, and perceptive than ever before. This means that people are no longer convinced by computerized brand hoardings they see on the side of the road, but rather by something more compelling.
And here's where influencer marketing comes into play. Customers are attracted to businesses by word-of-mouth marketing, but reviews and testimonials from reliable influencers can have a greater impact. In fact, according to reports, 65 percent of well-known consumer firms have embraced influencer marketing, with a 10-billion-dollar return on investment by 2020.
What is influencer marketing?

In today's commercial world, influencer marketing is a buzzword. It is one of the most strategically employed B2B Influencer Marketing Strategies because it is one of the most established and widely used web marketing techniques. Influencer marketing entails a celebrity or well-known figure advocating a product or service. This entails some form of cooperation between brands and influencers.
Influencers do not have to be celebrities to be influential. The only need should be that he or she has the ability to influence your target audience.
An entrepreneur with more than 10,000 followers or millions of followers on social media platforms, for example, is an influencer. They do, however, have a reputation for being able to influence others. This form of business influencer responds to your users' or audience's questions. You should look for an influencer that is passionate about your company and has a lot of expertise about it.
Smart entrepreneurs are using the B2B Influencer Marketing Strategies influencer marketing strategy to get more leads for their businesses these days. B2B marketers aren't far behind when it comes to implementing this tactic.
Who are the ideal B2B Influencers?
B2B influencers are typically business experts that have developed strong personal brands centered on their field. You can also uncover some relevant bloggers and video content makers in your niche.
Based on their experience and professional knowledge in the sector, B2B influencers can be classified into the following categories.
Brandividual
Influencers who have created their own brand name are known as brandividuals. They are regarded as brand influencers because they have millions of followers on social media.
Up-and-coming
The up-and-comers, also known as forthcoming influencers, are rising social media stars who are attempting to make a name for themselves on platforms such as YouTube. A well-known YouTuber might act as a new-age influencer for your brand.
Niche expert
Professionals with competence in your particular niche are known as niche experts. Because they understand what your business is about and how it can be sold, this type of influencer can assist promote it.
Internal experts
Your clients and workers are these types of influencers. When it comes to marketing and promoting your company, client or employee reviews are the most important.
Why are B2B Influencers Important?
New obstacles for B2B marketers have arisen as a result of the global pandemic. Business priorities have shifted in the post-COVID era as the business and market landscapes have transformed. Organizations all across the world have discovered that the B2B services that a Fortune 500 business will purchase today are not the same as they were before COVID. Companies are also seeing a reduction in marketing budgets, which is likely to continue. In addition to these market changes, marketing teams are being pressured to continuously offer business value and significant outcomes. As a result, marketers must accomplish more with fewer resources.
In these unpredictable times, it's more important than ever to re-invent influencers in B2B marketing and think creatively, tactically, and comprehensively. Companies may establish high-impact, scalable, and long-term collaborations that benefit the company, the influencer, and the customer by doing so. Here's how you can achieve that balance.
More than 90% of B2B buyers avoid sales messaging and instead prefer reliable content from industry leaders. Potential buyers are more open and accepting of messages that originate from a neutral and respected source, therefore B2B influencer marketing provides for a larger reach and credibility with them. An exclusive customer webinar on a trending topic featuring an industry influencer, a university collaboration to design a certification program for skill development with an influencer, or a virtual think-tank group in which influencers and customers work side-by-side to solve an industry problem are all examples of creative engagements.
Top 4 B2B Influencer Marketing Strategies
Once you've identified prospective influencers for your company, you'll need to contact them and explain how you want to work together.
You may also ask influencers for suggestions, but it's always a good idea to present your concept first so they know you're serious about it.
Let's get started with B2B influencer marketing techniques if you're ready.
1. Turn your customers into loyal advocates
You can also check in on your clients and followers and invite them to become brand ambassadors, in addition to reaching out to successful or existing influencers.
These Influencer Marketing Strategies is to use the word-of-mouth technique to increase referrals. It's not simple persuading influencers to be your staunchest supporters. The majority of influencers will continue to dismiss your offers. However, you may find it easier to target your customers.
Request that they submit feedback and reviews after acquiring or using your items and services. SEMrush has invested in community building as a tool, encouraging individuals to engage with and contribute to their brand. To keep their clients engaged, they used the gamification model.
You might also provide them with complementary products or services. As a result, you get a little closer to your consumers or clients. Giving away freebies is one of the finest ways to get your customers to promote your company through word-of-mouth or social media sharing. This is one of the first stages toward establishing a long-term connection with your customers.
2. Organize events 
You can host a variety of offline events with influencers to increase the trust factor in your connections. To recognize the individual who is meant to be your influencer, you can host VIP gatherings, award celebrations, or other large parties. However, the success of an event is mostly determined by your budget. It's entirely up to you how you want to organize it and how many people you'll invite.
You can develop face-to-face communication with influencers by arranging events, which is the greatest approach to stay in touch with them at any time. They don't have to be experts or influencers to be your customers.
3. Focus on co-creation
B2B influencers aren't expected to just repeat your brand's message and retweet it verbatim. Just buy some advertisements if that's the game plan. The more influencers who put their own perspective on the benefits of your products and services, the more convincing and effective they will be on your side.
Finding and educating the appropriate people is the greatest approach to develop with influencer marketing. Next, describe why you want to work with influencers and what you want to achieve. Then all you have to do is listen. Allow the influencers to brainstorm ideas for developing engaging content, promoting your events, engaging with key customers, empowering your sales team, and more.
Simply ensure that the influencer you select is well-known among your target audience and well-connected in the industry. Here are a few suggestions to get you started with your con-creation strategy:
Research Collaboration – Collaborate with industry leaders to gain their views or conduct research on specialized subjects relating to your organization. Conduct surveys, collect data, analyze it, and generate a comprehensive report that can be proudly shared. It would also have credibility due to the people who participated in the poll and study
Podcast co-hosting – This is yet another fantastic idea that no influencer will turn down. You can collaborate on a podcast or interview guests as a duo. This can also be utilized as YouTube and social media video material.
Publish Guides – If you own a SaaS company, this is the ideal idea for you. ConvertKit excelled at this by teaming up with Pat Flynn to offer video courses and guides. Pat Flynn is a well-known person in the podcasting and email marketing industries because he built his entire company around it. So who better to teach ConvertKit's target audience, which is largely bloggers, than him?
4. Utilize employee advocacy
The strength of your brand is determined by your staff. If your employees are dissatisfied with the work environment or management, they are unlikely to submit a constructive evaluation, which could harm your brand's recognition. Employee advocacy is one of the most important B2B Marketing tools for marketers, and organizations have effectively employed it.
With over 200,000 employees, IBM has given them the option to use them as "brand champions." They call themselves "IBMers." Its goal was to allow them to post content from the organization on their social media accounts. Within the first fourteen days of launching the promotion, they received 50,000 new enrollments for their IBM Verse product.