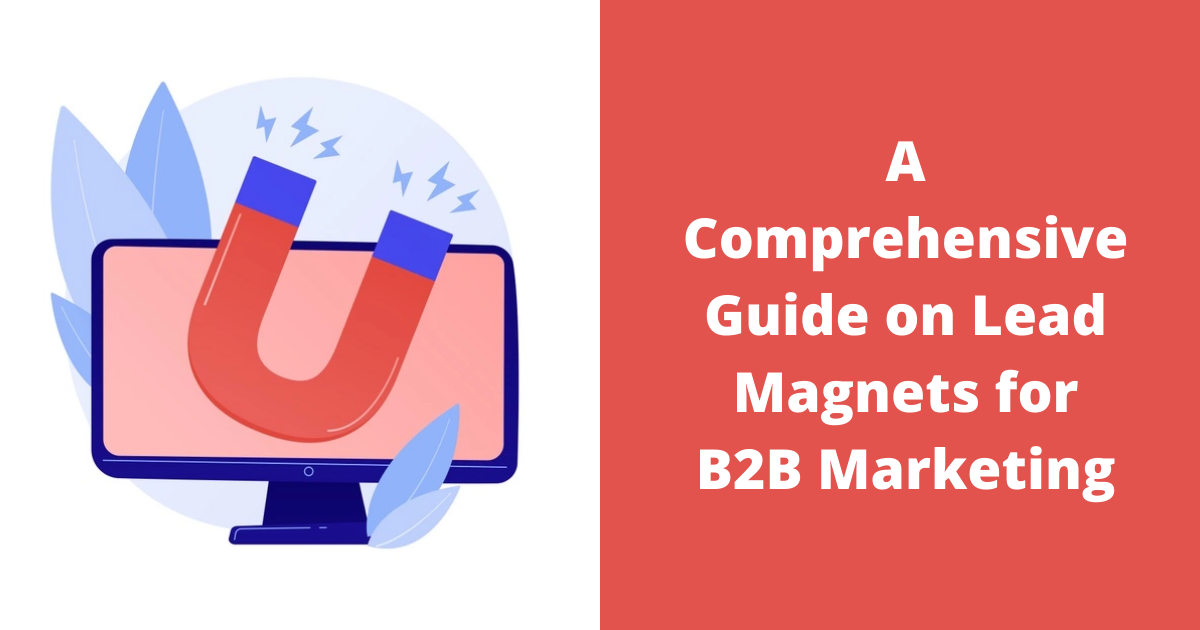 If you are a B2B company, and still not harnessing the power of lead magnets, this article can win the game for you. 
A lead magnet is a powerful marketing tool that can completely make or break your lead generation process. Additionally, it is a key step in your Customer Value Optimization process.
Customer Value Optimization focuses on optimizing throughout the customer lifecycle to improve brand awareness, customer loyalty, and retention.
Lead magnets are extremely common with inbound marketing. The reason they are widely popular is that they work well, extremely well. It is likely that you yourself would have signed up for a lead magnet at some point.
B2B companies have a greater chance to get something they want from their prospects in exchange for something compelling.
This blog post will give you an insight into what are lead magnets, and how you can accelerate your lead generation process with the different types of lead magnets. Read till the end if you 
Image Source – DigitalMarketer
What are Lead Magnets?
Let us take an example to understand what are lead magnets.
Many times you must have signed up on a website to gain access to a report, guide, ebook, or a free trial for something. You sign up by giving your information such as name and email address.
These long-form resources in exchange for contact information of the clients are nothing but lead magnets.
In other words, a lead magnet is a marketing tool that gives away a free item or service for the purpose of gathering contact details.
It can be a piece of content that drives awareness but can also be a free product sample, trial subscription, demo, or other product/service-related incentive.
The goal of using a lead magnet in your B2B company is to maximize the number of targeted leads you are getting for an offer.
B2B Lead magnets intend to offer expert insights, insider knowledge, a quicker way to get something done, or a unique solution that solves other business' problems.
Why Should B2B Companies Use Lead Magnets?
Now that you have understood what are lead magnets, let us move on to why they are important for a B2B company?
In comparison to B2C, getting personal information of professionals, decision-makers, or companies, etc is quite difficult.
Your B2B company needs lead magnets because they make your job as a marketer easier and more effective. Moreover, are you aware of the fact that 50% of the marketers who start using lead magnets report higher conversion rates?
B2B lead magnets form a bridge from awareness to credibility and likability. They also reinforce your brand value and establish your position in the industry as a helpful resource.
Creating a good lead magnet funnel provides you with more information about the needs and interests of your target group. Consequently, knowing more about your prospects helps you to generate higher sales.
Earning the trust of a business is usually time-consuming and takes multiple touchpoints. Hence, you have to offer some educational value to stand out in the competitive B2B market.
Following, Let's look at the points that make a good Lead Magnet. and then we'll cover 10 types of Lead Magnets that do exceptionally well for B2B companies.
What Makes a Good Lead Magnet?
To have an easy win with lead magnets, they should be instantly accessible. Clients love instant gratification and if something can be delivered right away, they are more than happy.
Even if your lead magnet is a long-form resource like a guide or an ebook, make sure they aren't too word-dense or laden with jargon. People like content that is easily consumable.
The below picture depicts three things to consider while drafting a lead magnet:
Image Source – Algorithmic Global
Only when your content is credible, connects with clients' pain points, and offers logical understanding, will it be ideal for the target audience.
Furthermore, here are 6 features of a perfect B2B lead magnet:
1. Serves the Business Purpose
2. Are Relevant and Specific
3. Promise Quick Wins
4. High Value
5. Instantly Accessible
6. Showcases your USPs
Types of Lead Magnets that can Boost Your Online Sales
As a B2B marketer, how do you capture your target audience's attention enough for them to freely hand over their precious contact info?
Well, the answer to this is well answered by the one and only irresistible, not-so-secret tactic – Lead Magnets.
Below are 10 types of B2B lead magnets that can be used by companies to attract leads:
1. Educational Videos and Webinars
In B2B, some professionals continue to consume content at their own pace. This is where educational videos stand out as incredible lead magnets. Educational videos teach your audience something new about a specific, highly relevant topic that touches their pain point.
The good thing about videos is that they are engaging and immersive. Also, they are mobile-friendly.
You can explain a tutorial in the form of a video to explain the solution to a problem on a step-by-step basis. By using catchy headlines such as – 10 Foolproof ways to start a real estate company.
Furthermore, Video content can be in the form of webinars as well which encourages prospects to share their information for an exclusive podcast.
Statistics suggest that 51% of B2B buyers are willing to share information about themselves or their company to register for webinars. They are well-received as they offer interactive opportunities for B2B buyers to learn from experts.
Apart from a live webinar, you can also send a recorded video of the previous webinar. Conversely a teaser of the upcoming webinar.
The key is to provide valuable information that your prospects can actually use.
2. Reports and Guides
There is a reason why guides and reports are extremely popular with B2B marketers. They work really well especially if you use them to educate clients on why they should buy from you.
Guides are scalable and easy to produce. However, the most important element of using a guide or a report is 'specificity'. This is something most B2B marketers miss.
The B2B companies should focus on one specific goal for one specific buyer persona. And, offer solutions keeping this in mind.
Let us take an example to understand this:
Image Source – Hubspot
Here, the company has made it clear who they are targeting – Small Businesses. The solution they are offering is – How to transform your small business sales.
3. Free Consultation
The prospects become eligible to take a bit of free consultation advice from you in exchange for an email address.
A consultation session gets you enough time with your prospects and that too is one-to-one. Whether it is a walk-in or a virtual session, it enables your representatives to personalize the conversation.
It also allows you to only answer the questions that the prospect might ask, unlike generic opt-ins.
This can be a really effective way of acquiring highly qualified prospects.
Below is an example of a free consultation page as a lead magnet:
Image Source – Dribble
4. Product Demos
Product demos are a clear and comprehensive walkthrough of your product/service. They take your potential clients through a demonstration experience enticing them to sign-up.
Additionally, they give businesses the opportunity to showcase their products and services to prospective clients.
Demos cater to the clients in the sales funnel that are interested in your product/service and looking forward to taking a decision.
Adding an opt-in with your demo videos works best for B2B companies' deals. Since the monetary value of the deals are huge and the buying process is lengthy, businesses do not mind getting hand holding from your team.
5. Free Trials
If you offer a service, a free trial of your company's service can represent an effective B2B magnet.
Trials can easily convert leads because they are free and don't require your leads to commit to anything.
Taking an example of B2C sales, I remember it was the 30-day free trial that enticed me to take a full-fledged Netflix membership. That's how Netflix grows its business.
Free trials give people a real-time experience of using a product/service and pay only when they are 100% satisfied.
Here is how OneFuse uses its free trial to attract leads:
Image Source – Cloudbolt
6. Cheat Sheet
A cheat sheet is a short and concise version of a report or a guide. Although having the same purpose, they have a different feel and look to them.
They also come in PDF formats and are generally very short and cut straight to an ultra-specific point. These are often in the formats of checklists, blueprints, and mind maps.
Cheat sheets are more popular because they provide highly tactical information and save prospects a lot of time.
Here is an example of how swiftly this fitness company added an opt-in in a cheat sheet.
Image Source – Fitness mentors
7. Challenge and Quizzes
Quizzes and challenges aren't just for consumers. You will be amazed to see the engagement and interactivity generated by a B2B quiz.
Similarly clients tend to be potentially engaged through challenges. Challenges make your prospects feel that they are not alone. Moreover, clients facing the same challenges can develop a sense of community turning into highly qualified leads
A challenge for B2B companies could be anything like a 15-day Fitness Challenge, or a 30-day traffic generation challenge.
It is generally accompanied by an assessment wherein your company gets to know the pain points of the audience and strives to provide a solution.
Once the B2B clients have taken the quiz/challenge, they are more likely to hand over their personal information to you to get the results.
8. Predictions
Since B2B caters to other businesses, professionals are always interested in predictions and forecasts. They intend to be in trend and up-to-date with forecasts that affect their businesses.
If you are looking to project as an industry leader, make predictions about the industry you are in and publish them as downloadable opt-ins to attract leads.
Regular predictions can also build your credibility as an organization.
To understand this further, let us take an example of the fashion industry. For instance you are a B2B fashion e-commerce company. You can come up with fashion predictions for 2022.
A lot of startups and organizations would certainly sign up to get aware of the upcoming trends.
9. Forums
Creating your own membership sites or forums with free registration is a great way to build engagement.
The forums provide a platform for your audience to ask questions, share their opinions, and connect with people who contribute unique insights and quality answers.
A network of like-minded professionals, offering access to expert knowledge and opinions is a powerful way to make people feel successful and supported.
Your company can leverage phenomena like social proof and FOMO to attract and convert leads.
A discussion cum question and answer forum is one of the ideal types of lead magnets that boosts your lead generation process.
10. Gated Blog posts
Any content that visitors can access after providing their information is called gated content.
It is that blurry or hidden section that we see behind the pop-ups.
One way to use this lead magnet is to gate the second half of a long blog post. Once users are engaged and are linking your content, they would want to read more.
The key is to create an offer that your target audience wants so badly, they're willing to fill in a form to access it.
Strategically using gated content becomes a gateway to bonus conversions.
The Key Takeaway
By now you must have understood what are lead magnets, and how they potentially speed up your lead generation process.
If you want to boost your business and attract more leads, these 10 types of lead magnets can definitely help you succeed in your venture. Go ahead and pick the ones that best suit your needs to improve your digital marketing efforts.
If you are looking for more lead generation strategies and tips, we are open to your concerns.
VPDIGIT offers state-of-the-art marketing strategies designed for growth-oriented B2B companies looking for ways to boost lead flow and revenue surge.