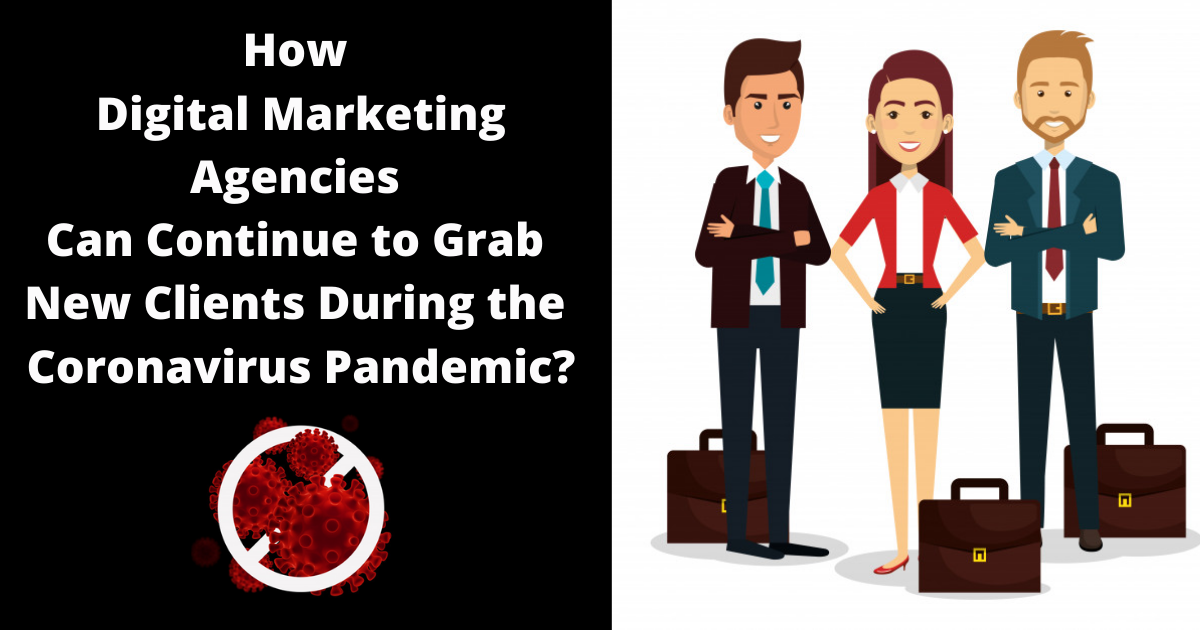 How Digital Marketing Agencies Can Continue to Grab New Clients During the Coronavirus Pandemic?
With the outbreak of coronavirus, our world is facing a very significant threat but there is hope in the future. Businesses were significantly affected as the economy took on a blow.
Coronavirus is dramatically shaking up businesses and customer behavior. Both the public and private sectors are working to slow the spread of the disease and control infections caused by COVID-19. While the full economic ramifications of this global epidemic occurrence are still uncertain, we know that the impact of the outbreak is now precipitating transition through sectors and the dramatic steps being taken to control it.
The epidemic of Coronavirus has created chaos for many businesses with a majority needing to change their plans or lock their doors for the near future. As a Lead Generation & Digital Marketing Agency, though, we are keeping our doors wide open to our clients and companies in need of marketing guidance to help them go through this Coronavirus Pandemic with ease.
Covid-19 Pandemic has certainly raised up challenges for Digital Marketing agencies. To be precise, digital marketing companies are looking at budgets more closely, making sure they can get every bit of income out of their projects, and searching for the most cost-effective way to provide services.
Marketing expenses can seem a soft target for companies trying to reduce their budget. Yet a decrease in marketing budget is a short-term remedy and inevitably would have long-term implications. Making the company visible in the minds of prospective clients is important for long-term sustainability and sustained investment.
Challenges
There are three major challenges connected to the coronavirus pandemic which is now confronting the digital marketing agencies. The challenges are:
1. Adjusting to rapid developments affecting digital marketing strategies
2. Using digital solutions for clients that are highly impacted by Coronavirus
3. Implementing Digital Marketing strategies effectively from home
Effective Digital Marketing Techniques to Execute During Coronavirus Pandemic
1. Marketing Automation
Marketing automation is the lowest risk, fastest and most efficient way to keep the consumers in touch through this pandemic. You need to deliver customized, contextualized, tailored communications to both your current as well as your potential clients who would like to hear your digital marketing services. Understanding the current crisis, you need to stay in constant touch with your clients through social media and your website. This will help you to stay active amongst your clients, help in the smooth functioning of your strategies & execution of digital marketing campaigns.
2. Using LinkedIn Sales Navigator for Lead Generation
LinkedIn Sales Navigator is another platform that can come to your rescue and help you with optimal lead generation during the time of Coronavirus. Since, it is advised to stay in isolation and work from home, generating leads from online platforms like LinkedIn is a smart choice. This tool makes it easier to reach the target prospects by narrowing down users in search and using important filters including keywords, geography, business, description, tags and so forth.
3. Use Cold Calling To Keep In Touch With Your Clients
People around the world are practicing quarantine and self-isolation. Most of the companies have advised their employees to work from home. You can use this time to carry out another important marketing strategy to connect with your target clients and that strategy is known as cold calling.
People these days are at home and they precisely have more time to attend work-related calls. This could be your chance to get connected with the target clients and let them know about your digital marketing services, how you are different from the rest & most importantly how can you help their businesses elevate during the Coronavirus Pandemic.
Carry out comprehensive research on what you are going to pitch through a cold call & plan what you will say in advance. Prepare all the notes and get yourself ready to answer all the questions that might come from the other side.
4. Connect With Potential Clients Over Cold Emails
Cold email marketing is a useful technique for attracting the best clients to come forward as this crisis threatens the world. Cold email is a way of getting to understand someone who is interested in your company and needs to learn something about the services you provide.
5. Get More Active on Social Media
You can utilize this time in getting more prominent on social media, gaining higher visibility & attracting more clients. Increase your engagements in social media platforms like LinkedIn, Facebook, Twitter & Instagram. Strike conversations with your existing clients to strengthen the relationship as it could further lead to a referral and you can win more clients through your existing ones.
6. Use the Power of Content Marketing
During the coronavirus pandemic, content marketing will become an efficient way for you to keep in touch with your consumers and improve the pipeline output. Communicating and engaging with your customers will stay undisturbed in the constantly shifting digital world, no matter what the situation is as long as you have the right content marketing strategy in place.
Development of content is an important element for your proactive marketing strategies especially in the times of global crisis and for establishing contact with your existing & potential clients. Share the latest ideas that classify your digital marketing services from your competitors, and share your positive news reports in terms of case studies and reviews. This will not only increase your credibility but will also make your agency authoritative that will further help you acquire more clients.
7. Conduct Digital Events
Most of the businesses today use an amalgamation of Digital as well as traditional lead generation channels to ensure that their budget is balanced. While being hit by Coronavirus Pandemic, businesses should not lose hope and use the power of Digital Events to ensure lead pipeline acceleration. To make up for the unexpected cancellation or postponement of in-person meetings and seminars, you can turn to virtual meetings, live streaming activities, and webinars. This ensures that there is a lot of scopes to keep up-to-date with what's going on in the business world and start to digitally grow the network & attract more clients.
8. Leverage Artificial Intelligence
Now is the time to be up to date on the new advances in machine learning and artificial intelligence which can give your digital marketing a strategic edge and at the same time access to the same prospective clients. Taking advantage of the latest trends in AI would reduce the savings by attracting potential clients and ensuring that you send the right message at the right time to the right user and minimize duplication.
You will use the Chatbots to simplify the client interactions. Chatbot AI will help alleviate the burden and encourage you to spend your attention on the things that most matter during the crisis. By using Artificial Intelligence, you can also streamline your Human Resource tasks like hiring candidates, conducting interviews and taking orientations.
Niches
As a Digital Marketing Agency, finding a niche that is not majorly affected by coronavirus is quite daunting. At present where almost all the industries are facing a set back due to Coronavirus Pandemic, finding businesses and niches to sustain your business becomes exceptionally important.
To help you find the right business during the crisis, I have compiled a list of niches that are least affected by Coronavirus
1. Android App Creation & iOS Programmers
Android App Creation and iOS Programming Companies are one of the most profitable niches that you can pitch to. The demand for smartphones is now booming. The rise is growing competition for developers of mobile apps, who now have plenty of work opportunities.  This is the reason why most of the developers have combined together and come up with App Development companies.
As the App Development Companies are not highly affected by Coronavirus and the process can be easily executed from anywhere, their work won't stop and this can be your chance to get a brand new client from a promising niche for your Digital Marketing Agency.
2. Online Yoga and Wellbeing Businesses
To all of us, yoga is similar to well-being emotionally and physically. Yet this ancient Indian practice has become a source of income for a growing community. On the background of a rise in the beauty and fitness industry the craze for yoga is growing.
While people are becoming anxious and stressed, they are looking out for virtual options to distress themselves. Thus, online yoga tutors and counselors are also taking this initiative to teach yoga through online mediums. To reach out to a larger audience through online platforms, these tutors require solid digital marketers to help them gain visibility. You can hit the nail by pitching them your digital marketing services and considering the heat of the moment, you can surely grab new clients.
3. EdTech Companies 
In the last few days, more and more schools, colleges & EdTech companies around the world have announced that they are moving into electronic learning alone. Hundreds of thousands of teachers are currently working on getting their lessons to face to face online. The online course layout requires a tremendous amount of time and energy. Apart from becoming virtual in nature, these EdTech companies would also need digital marketing assistance to make sure that they attract the right audience and also profit in the time of crisis. By pitching them your digital marketing services, you can come to their rescue and also earn yourself a brand new client.
4. Financial Consultants
Because of the spread of COVID-19, also known as the novel coronavirus, the stock market has plunged over the past month and many employees have been forced to stay home from work, often along with their children whose schools have closed. With so much confusion still surrounding this pandemic, certain significant financial issues are inevitable.
Taking this into consideration, more and more financial consultants are coming up to clarify the finance-related doubts of the people through virtual means of course. As a result of this, some of the financial consultants who otherwise conducted in-person consultation are looking for digital marketing assistance to get connected with their target audience. Reaching out to Financial Consultants can also be profitable at the time of this global crisis.
5. Health Care Consultation
Since the onset of the coronavirus epidemic in the last few months, the respiratory medicine doctor has been counseling patients concerned they were diagnosed with the virus. There are many people all over the world who look forward to finding medical guidance but are afraid to go out because the world is in self-isolation.
The healthcare customer today is a lot different from the healthcare customer of the past. Patients may also do comprehensive internet testing, which ensures they 're more informed about the treatment they're providing. They do have access to feedback, ratings, and online forums for doctors to connect with other patients who may have similar conditions. As a result, healthcare consultants are more peculiar about their online presence. By reaching out to these healthcare consultants, you can not only get yourself a profitable niche of clients but also enter a promising & long-lasting industry.
6. Fitness and Nutrition
Nutrition counseling is a form of assessment or consultation that analyzes specific food and exercise health needs. A food advisor will help you set realistic fitness targets and show you different ways to keep the targets running throughout your life. With the outbreak of Coronavirus, almost the entire population of the globe is practicing self-isolation. As a result of this, they have to skip skipping gyms and fitness sessions.
This has increased the demand for fitness and nutrition companies and counselors to come forward and show their expertise. To get more exposure, they are now heavily relying on online mediums and as a Digital Marketing agency, you can pitch this niche to get promising clientele.
7. Online Course Providers
Online Courses are another promising niche that you can pitch to in the time of coronavirus. As a result of the outbreak of Coronavirus, people have started staying indoors. For a major population, this time has become a time of upskilling. People want to or have already started using this quarantine phase to upgrade and upskill themselves. During this crisis time period, online courses are in high demand. Thus, pitching the online course providers can be a smart choice as their work will not stop since all the processes are conducted online.
8. Web Designing Agencies
Web design is an important aspect of the information technology industry today. Internet architecture has an unlimited reach and potential. The platform would continue to be built for the sustainability of the internet and will provide countless work openings for web designers. Web usage continues to overtake the millions around the world. Seeing the promising future of web designing, a lot of web designing agencies have emerged in the past and are now looking for assistance to clear the utterly cluttered online competition. You can pitch your digital marketing services to these web designing agencies and help them to stand out from the crowd and gain a strong online presence.
9. Software Companies
Software is prevalent in today's society and without the systems on which they depend, many individuals and organizations can no longer work. Of course, such systems need to be developed, delivered and sustained. This is the software development enterprises ' work. The software development market is both vast and big, which is why many new software development companies are developing each year. This industry can be a profitable niche to pitch for your digital marketing services.
10. Mental Health Counselling
Mental health counselors play a vital part in helping people who are facing mental or emotional issues get back on track with their lives. The emerging pandemic coronavirus (COVID-19) is a specific and unusual phenomenon. This may have physical but also psychological effects on individuals. A lot of people will encounter responses to stress, anxiety, and depression in this sort of context. This has and will surely increase the demand for mental health counseling services. Therefore, you can reach out to the mental health counselors and pitch them your digital marketing services.
11. Electricians
Electricity has been our staple and now we can not envision our lives without it even in the midst of the Coronavirus epidemic when most people are staying indoors and using technological and electronic gadgets to keep themselves amused and occupied. Any type of electronic mishap cannot be taken for granted and hence the electrician's industry is another sector that will continue to work under crises and hence this niche is another most important one to pitch for your agency.
12. Ecommerce Grocery Stores
For food retailers, the coronavirus outbreak has been an unparalleled obstacle. Despite a lack of supplies on the shelves and the uncertainty of not going out, people look forward to e-commerce grocery stores to do their daily grocery shopping. Thus, you can choose this niche for your agency and provide them with your digital marketing services.
13. Security Companies
With the outbreak of COVID-19, the world has been put down to isolation. This is done in order to reduce the spread of this deadly virus. However, there are still some people who are taking this virus lightly and are violating rules. This has indeed increased the demand for security professionals to maintain law and order in the moment of crisis. Therefore, a lot of security providers are coming forward to offer their services and hence their work is directly affected by the Coronavirus Pandemic. However, at the moment, these companies must be looking for digital marketing assistance to gain online presence and you can pitch these security companies your digital marketing services.
14. Gaming App Companies
As you might be aware that a large population of the world is practicing self-isolation and they have a lot of time to spend at home. To pass their time most of the people are relying on online series and games. Thus, Gaming App companies have a higher probability of getting long-term customers in this course of time. Reaching out to these Gaming App companies is another smart choice that you make to grab new clients during coronavirus pandemic.
15. Credit Unions
Credit unions are committed to supporting customers and societies with social obligation. Providing day-to-day banking goods and resources and an emphasis on sustainability and member awareness is how credit unions improve people's lives that touch. In the time of global crisis, people are taking assistance from these credit unions to support themselves. Thus, Credit Unions is another profitable niche that you can reach out to.
16. Insurance Agencies
Insurance offers peace of mind in case you experience physical or financial harm from unexpected circumstances. Over the past decade, India's insurance sector has seen remarkable growth, with companies launching a range of innovative plans and policy options. During this global epidemic, the demand for insurance policies has increased substantially. Thus, it is a good opportunity to reach out to various insurance agencies and offer them your digital marketing services so that they can get more targeted customers.
17.  Plumbing Services
Plumbing systems are of paramount significance for every residential house so that the whole plumbing infrastructure can work properly and conveniently to dispose of water. As a result of the Coronavirus outbreak, most of the people are staying in their houses and there might be possibilities that some water leakage or plumbing issues might arise. Hence, plumbing services are one of the services which are active at the moment of crisis and hence this niche is indeed a profitable one to connect with.
18. Online Medicine Providers
Online pharmacies offer better prices for customers than off-line stores, with greater availability, reduced purchase and inventory rates, flexibility and improved confidentiality. They provide connectivity in remote areas to persons with restricted mobility and to tourists. During the Coronavirus Pandemic, people have to stay at home for a longer period of time to break the chain. Medicines are one of the essential commodities that cannot be taken granted for. Hence, the importance of online medicine providers has increased even more. Hence, targeting the online medicine providers as next will surely proof profitable.
Final Thoughts
Although in some ways the coronavirus pandemic poses market threats, in others it also offers incentives. As a digital marketing agency, the aim is to identify opportunities while being in crisis to make sure that your Digital Marketing Agency is up and running. Hopefully, this article has boosted your confidence and given you a fresh vision to get back on track.
Are you looking to grab new b2b leads? Connect with me on rajat@vpdigit.com and we will help you in getting new customers.