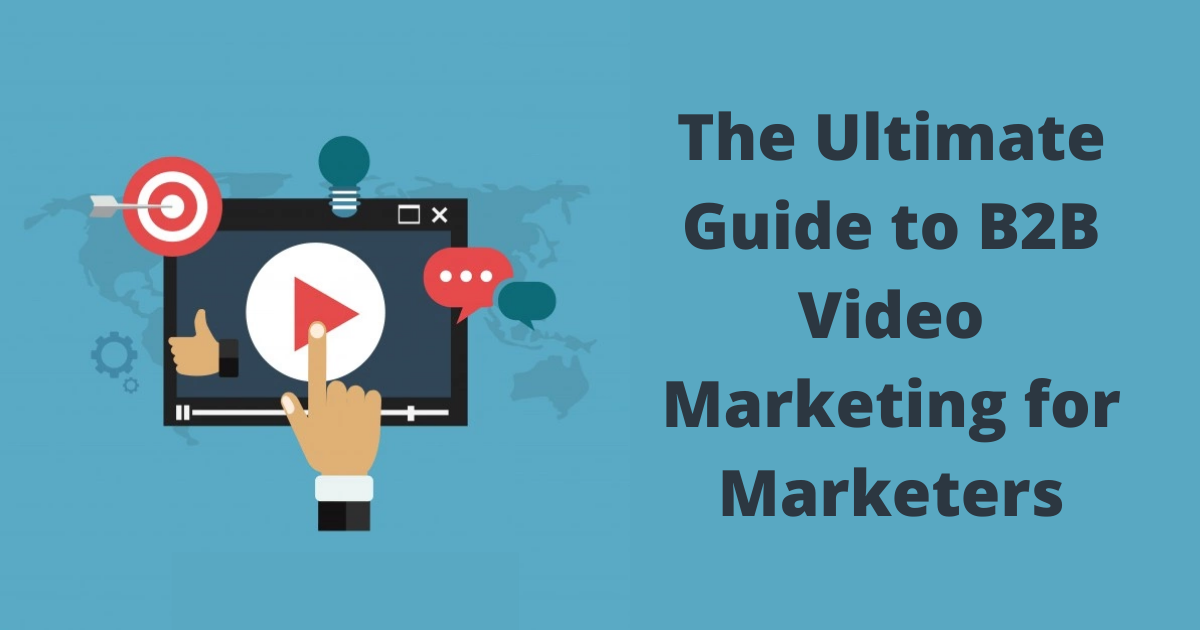 As per SmartInsights, about 92% of marketers believe that videos are an integral part of a B2B marketing strategy. So, the next question that pops up is why is B2B Video Marketing so popular?
Image Source – SmartInsights
The last few years saw a surge in the popularity of videos as content marketing formats. Mainly because it enhances the understanding of products or services to a great extent. Especially in B2B, where technical concepts and jargon are a common occurrence.
Apart from promoting your products and services, video marketing for B2B also increases engagement on your social channels.
Humans, being visual creatures, are more fascinated by videos. In fact, statistics from Wordstream state – 68% of consumers prefer watching videos over other mediums.
Come along if you are still looking for answers to – What is the need for a B2B video marketing strategy, What types of videos should you create, and How to formulate the ideal strategy.
Why Invest in B2B Video Marketing?
Offering a plethora of benefits, video marketing for B2B should form an integral part of your marketing strategy. It is paramount to communicate with your B2B target customers and grow your business's bottom line. 
If you are into a B2B business and still unsure about investing in video marketing, look at the below benefits:
1. Search engine benefits
Quite frequently, video results appear in Google searches, and most of the time they are on the top of the page.
Image Source – Dummies
If you have noticed this, then you know how to avail this free exposure by creating videos.
An exceptional B2B video marketing strategy is an opportunity to show up in the SERPs and enhance your business' visibility. 
2. Improve Traffic
A video is a useful tool for increasing traffic and generating leads. The easy shareability of videos makes them an indispensable part of any business.
A statistics from Hubspot states 81% of businesses use video as a marketing tool — up from 63% over the last year.
It is clear that adding videos to your marketing strategy helps to attract more viewers to your website and increases your conversions.
3. Trust and Credibility
According to research, viewers retain 95% of a message through a video compared to just 10% when reading text.
Think for yourself, what would you prefer – a video explaining how to fix a dryer motor or a 2000-word text explaining the same? Of course, the video.
Videos enable you to connect with other businesses and earn their trust.
The more videos you have to inform and educate your customers, the more they will look towards you for help.
Types of Marketing Videos
Having a firm grasp of the most useful types of B2B marketing videos, you can easily cater to your audience, product, and goals.
Amongst various types of marketing videos available, the below 6 are apt for a B2B company.
1. Explainer Videos
The explainer videos aim to teach your audience how your product can be a valuable addition to them.
These generally include fiction to educate the target audience. Such videos can also be used as a part of a content marketing strategy to promote your offerings.
The best type of explainer videos:
Emphasize pain points
Are visually interesting
Resonate with the audience
2. Live Videos
Live videos humanize your company by giving your target audience a look behind the curtain.
Live streaming talks about product launches, talk shows, product demonstrations, etc.
These help to build trust amongst the prospects as it does not give a pushy advertisement experience to them. Hence, drives a higher engagement rate. It is more of raw content that is all about connecting businesses and making relationships.
3. Demo Videos
Demo videos are used to demonstrate how your product/service works.
These videos capitalize on the interest of your target audience and direct it to action.
In a B2B context, such videos can be used to take your viewers on a tour of your software or unboxing a product.
4. Promotional(Brand) Videos
The objective of a brand video is to introduce your prospects to your brand identity.
Rather than explaining products and services, such videos show the company's high-level vision and mission.
Brand videos help your target audience to give a sense of who you are and what you do.
5. Event Videos or Webinars
Are you hosting a fundraiser, industry meeting, conference, or any other type of event?
If Yes, produce event teaser videos to build interest amongst the people and encourage sign-ups. The more engaging the teaser video, the more attendees you can expect.
Additionally, you can even make event recap videos to highlight all the activities, talks, and inspiring connections that took place.
6. Customer Testimonials
A customer's success story is social proof to convince other customers of your product's value.
Testimonial videos include your clients, their challenges – why they needed your product, and its solution – how your product benefited them.
The satisfied and happy clients are your best advocates to tell their experience with your B2B product.
Steps to Craft a Perfect B2B Video Marketing Strategy
Video marketing for B2B is a fast and effective way to help prospects understand the value of your product or service.
However, various aspects go towards creating a video that captures users' interest.
The below steps will guide you through the detailed process of making and publishing a video for your B2B business:
Step 1: Devise your B2B Video Marketing Budget
Deciding on the budget of your B2B video marketing strategy can be a tricky process. 
Whether to hire a professional video marketing company or to produce in-house videos should be your first question to ask.
Hiring a company can reduce your investment in expensive equipment, videographers, scriptwriters, etc. Yet, producing in-house videos gives you the opportunity to find creative ways to convey that to the audience.
Explore your opportunities and learn about your limitations to come to a decision.
Step 2: Set your Video Marketing Goals
What do you plan to accomplish with your video marketing? An increase in traffic, or better conversions? Above all, what do you want your target audience to do after watching the video?
The content and style of your videos depend upon the ultimate goal of your B2B video marketing strategy. For instance, If your goal is to increase traffic, you will produce videos that attract people.
Always choose one stage of your sales funnels for your video content.
Image Source – Blue Corona
Step 3: Create a Video Marketing Content Calendar
A well-rounded B2B video marketing strategy takes into account a social video content calendar. 
It incorporates tasks like scripting, shooting, editing, and publishing the videos on particular dates through decided channels.
A content calendar ensures that all of your video-related tasks are actually happening. Being a B2B company, you must have it to easily collaborate with your team or outside partners.
Furthermore, you can see your entire B2B video marketing strategy for the next few months on a single screen. It gives you a big picture of the upcoming stuff.
Image Source – Lumen5
Step 4: Create and Publish
A B2B video marketing production requires more than just making amateur videos. 
Since you have a professional audience, you must value quality over quantity. The visual content should be well-thought of, professional, and skillfully produced.
If you have the necessary resources to produce the desired videos, go ahead with the in-house production. On the contrary, if you don't, consider hiring a reputed B2B video marketing agency. 
Lastly, consider publishing your videos on the channels most visited by your target audience.
Step 5: Promote your Video Content
Promoting your video content is an important step as it decides who watches your videos.
Promoting also gives B2B companies an opportunity to engage with their prospects.
The target audiences comment and ask questions on the videos. These can be responded to to drive a higher engagement rate.
Step 6: Track Your Success
Last but not the least, measuring your B2B video marketing is crucial to know the effectiveness of your video marketing efforts.
Without measuring you will not have any idea whether your B2B video marketing goals are accomplished or not. 
Two things will happen if you track your results:
First, your video marketing was not a success. Knowing this will let you change or modify your strategy for better results.
Second, your video marketing was a success. You will know which types of videos are doing well and you can streamline your future video marketing efforts.
The Key Takeaway
Videos are an amazing way to educate your customers, create brand awareness, and increase conversions.
Considering the time, money, and resources involved, B2B video marketing shouldn't be based on an impulsive hit and trial methodology. Instead, you need to create a comprehensive strategy that applies to every facet of your marketing.
If the idea of video editing and marketing still seems daunting, our expert team is always ready to talk about video marketing for B2B with you! Reach out now and unleash the power of videos to grow your B2B company.