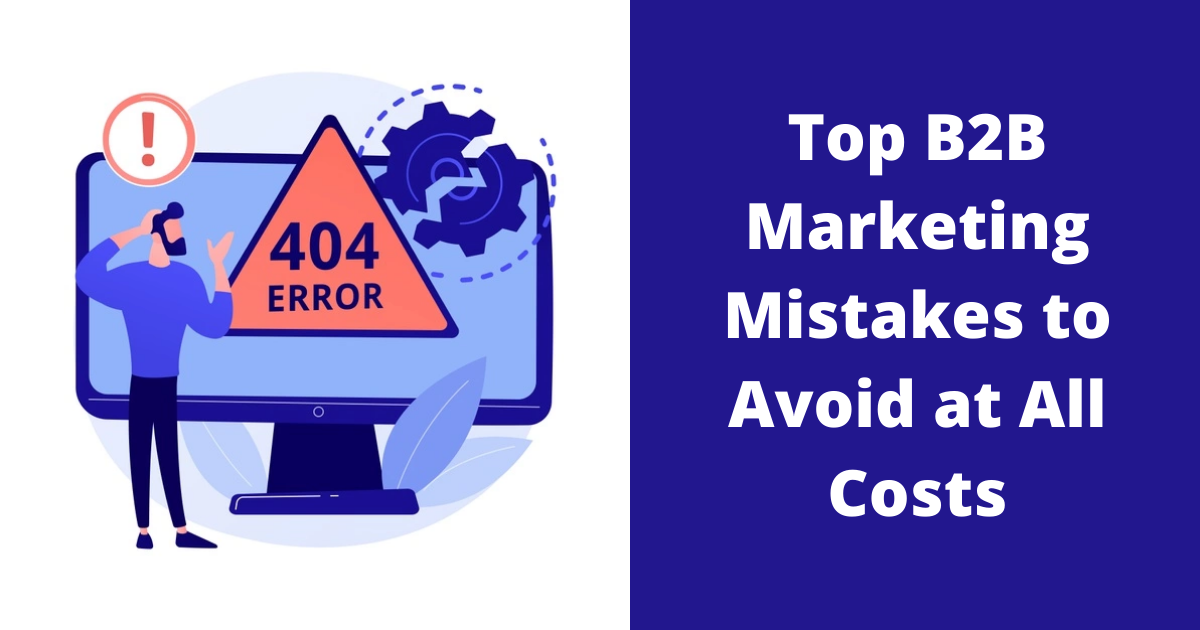 Are you a B2B Marketer & want to know why your campaigns are not working? Read more to know about the top B2B Marketing Mistakes.
It's something I've heard far too many times from firms who have abandoned digital B2B marketing. We gave it a shot, but it didn't work.
After talking with them, I discovered that many small business owners are making the same B2B Marketing mistakes, causing them to believe that digital marketing is ineffective.
That is simply not the case.
Marketing, when done right, generates more leads, clients, and sales. It also increases the value of your products and services by expanding your network.
But few people do it right. Unfortunately, even marketers can get it wrong.
B2B Marketing – Is it Really That Dangerous?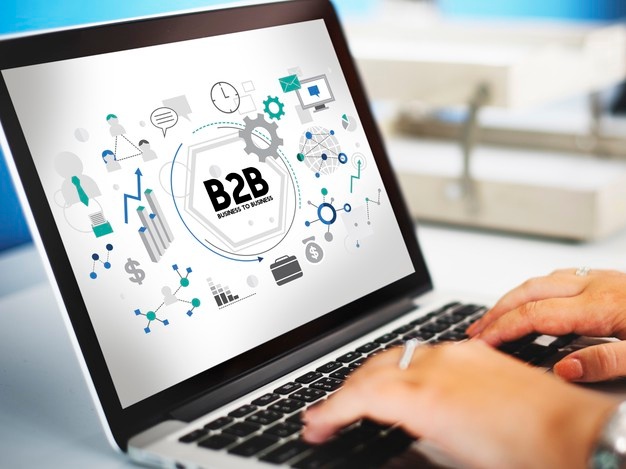 Marketing is a pretty broad term, yet it has a varied meaning for each agency. Customers' tastes and requirements are constantly evolving, as evidenced by the way marketing has developed over time, much like technology. It is often stated that a digital marketing agency should strategy based on their target demographic, but we often see people marketing their products and services in a way that is not focused on their customers.
Although it is a fairly broad term that has varied meanings for each company on the market, "marketing" is crucial in business.
Consider this: you may have the best product or service on the market, and it would solve your audience's problems and meet their wants right away. You won't sell if no one has ever heard of you or your stuff.
It's at this point when marketing takes center stage.
Whatever it means for your company, marketing is the only way to get the word out about your brand and product/service and to persuade people to buy it.
However, marketing success is not a simple task for a company. There are numerous things you must understand, analyze, and perform correctly in order to persuade people to buy from you. Furthermore, when it comes to B2B marketing, things become a little more challenging because you're trying to sell to people who understand how businesses work and make purchasing decisions based on profit.
Fortunately, while difficult, planning an effective B2B marketing campaign is not impossible. That's if you succeed in avoiding these common B2B marketing mistakes:
Top B2B Marketing Mistakes to Avoid
1. Not understanding your clients
This is by far one of the most common B2B Marketing mistakes, regardless of whether you're selling to the general public or another company. The mistake that can cause your entire plan to fail is not knowing who you're trying to persuade to buy your products or services.
You'll make all the incorrect decisions if you don't have a specified target audience. You won't be able to figure out what your audience wants and needs, how to contact them, and what form of material would keep them interested. To put it another way, your marketing plan will be ineffective.
How to Avoid It?
Understanding your target demographic is critical for both marketing and sales, which are intertwined in any successful firm. You'll sell if your marketing is effective. If you don't, you won't be able to sell.
To avoid this blunder, you must first determine who you intend to sell to. Keep in mind that, particularly in B2B companies, there are crucial persons whose profiles should be included in your target audience data. These critical individuals are frequently the ones who make purchasing decisions, therefore they deserve special attention.
Conduct B2B market research to better understand your target audience. This will assist you in gaining all of the information you need about your market, including possible clients.
2. Ignoring Social Media
Despite the fact that social media is one of the most potent marketing platforms, B2B marketers sometimes disregard it. Some claim that connecting on social media as a corporation that solely sells to other businesses is tough. Others argue that their field isn't interesting enough for the ordinary social media user.
How to Avoid It?
B2C companies aren't the only ones who use social media. B2B enterprises can also benefit from social networking. Using platforms like LinkedIn, you may find and contact potential clients. Create high-quality material to establish oneself as the industry leader. Engage in social media to strengthen existing client ties and invite others to join their network. Find out more about your clients so you can better understand their preferences and complete the transaction.
The most important goal for any B2B organization on social media should be to tell interesting stories. Finding your brand's voice and publicly connecting with customers might assist to humanize your business.
You don't need to spend a lot of money on social media campaigns. Using social media for business purposes can range from promoting your own workers to uploading videos of your product or service in action.
3. Using Too Much Jargon
The use of jargon is the first B2B marketing mistake we'll look at. Many businesses use jargon to demonstrate their expertise in their sector, and although it's excellent to identify oneself as an expert, jargon might alienate your target audience. Your audience may struggle to understand what you're saying if you use a lot of jargon, and your information may overwhelm them rather than instruct them.
How to Avoid It?
Write for the people who will read it. You can create sites and content that resonate with your audience if you know who they are (and you should!). Always keep your prospects' degree of knowledge and education about your sector in mind when delivering information so that they can understand it.
4. Using Bland Call-to-Actions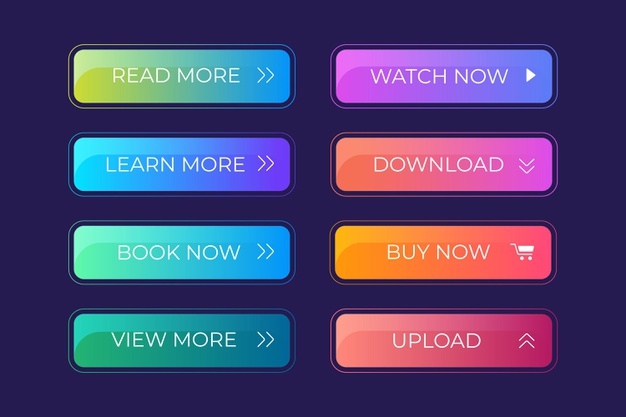 You need something to remind your customers to buy, whether you're a B2B ecommerce company or a little supermarket on the corner of a street. Let's imagine you're a firm that offers an integration platform as a service and you've spent a lot of money on an entertaining marketing video that describes what exactly is. However, you don't have a clear call to action that motivates consumers to buy. This is a common mistake made by B2B companies, resulting in a lower conversion rate.
How to Avoid It?
B2B CTAs should not only be visible but also well-timed and strategically placed. This is due to the fact that B2B products and services are typically more difficult to explain than B2C items. So, on a landing page, a basic 'buy now' or 'click to view' button isn't adequate.
Here are some of the greatest approaches to come up with a unique B2B CTA:
Include a free sample of your product in your CTA. Offer them a trial after they watch a demo or video of your product or service with a CTA like "Here's a ten-day free trial, starting now."
Create a timer with your CTA. Offer a one-of-a-kind deal for a limited time. This increases the urgency of the client and motivates them to accept the offer.
Provide a money-back guarantee. In essence, this is your company's promise to the client that they will enjoy your product. 'If you don't like it within one month, we'll refund every cash,' for example.
5. Not Tracking Your Progress
An effective B2B marketing plan requires you to track your campaigns. Take, for example, your customer service department. They get a variety of incoming calls from customers, most of which are related to difficulties, complaints, or feedback. This feedback is subsequently taken into account, and the appropriate adjustments are made. This is something that your marketing department should be doing as well. B2B marketers can make a significant error by failing to track their metrics and ensuring that the money they spend is actually generating revenue.
How to Avoid It?
Here are a few key data points that every B2B marketer should keep an eye on:
The percentage of potential consumers and leads who become paying customers. This is all about determining whether or not your marketing is generating high-quality leads.
The percentage of leads who have taken action as a result of your marketing campaign. This is to ensure that the marketing reaches the intended audience.
A customer's average cost of service. This is to see if you're overspending on marketing and how you might make better use of your funds.
6. Focusing Too Much on Your Company
This is one of the worst B2B marketing blunders you can make. Many B2B organizations spend a lot of time emphasizing how amazing their services and company are. While it's great that you're a great business, your prospects don't want to hear it.
When visitors come to your site, they just care about one thing: how you can assist them. They're interested in learning how your products or services address their problems or make their lives easier. You're making a significant B2B marketing mistake if you state things like "Our software is the greatest on the market and better than any other firm," rather than "Our software helps you manage schedules, mail paychecks with ease, and handle your payroll."
How to Avoid It?
The simplest method to correct this B2B marketing misstep is to rewrite your site text and view it through the eyes of your target audience. Are you identifying and addressing your audience's pain points? If not, edit your wording to demonstrate how your company can assist your target audience.
7. Forgetting Responsive Design
One of the most typical marketing blunders made by B2B companies is failing to consider responsive design. The importance of responsive design to your audience's experience is that it ensures that they can readily access your content. You want to guarantee that your audience has a great experience on your website, regardless of which platform they use to view it – from desktop to mobile to tablets. Your audience will struggle to utilize and enjoy your site if it does not have a responsive design.
Consider trying to use a mobile device to visit your site's desktop version. To read information and click on buttons, you'd have to zoom in and out constantly. Your audience would be frustrated and quit your site as a result of that experience.
How to Avoid It?
The answer is straightforward: Responsive design should be incorporated into your website. To help give a better mobile experience, make sure you include mobile-friendly elements like thumb-friendly buttons and hamburger menus.
8. Ignoring Search Engine Optimization (SEO)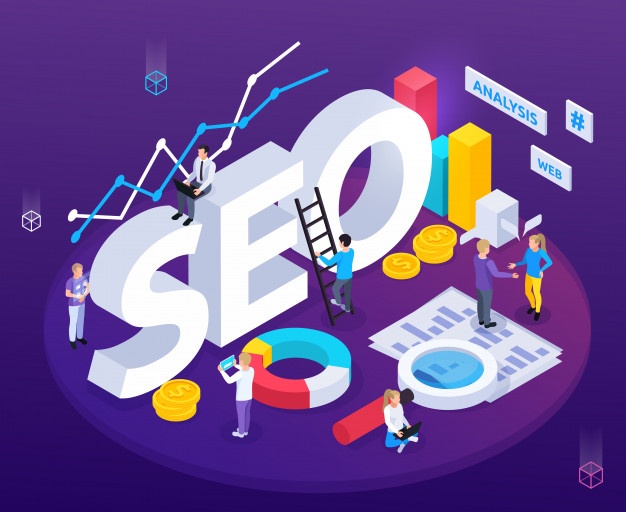 Ignoring search engine optimization is the next mistake on our list of B2B marketing mistakes. One of the most crucial tactics for expanding your internet business is SEO. Because SEO helps you rank higher in search engine results pages, failing to incorporate it into your marketing strategy could result in your company's website receiving minimal visitors. If you're not controlling your search engine visibility, you're missing out on a great opportunity to connect with potential customers.
How to Avoid It?
Begin by making your website search engine friendly. This can be accomplished by incorporating relevant keywords into your page, reducing site load time, and optimizing your title tag and meta description, among other things.
9. Neglecting to Track Metrics
You want to be sure your digital marketing strategy is working before you commit time, money, and effort into it. One of the most typical B2B marketing blunders is failing to track key performance indicators.
You must track the results of your campaigns to see if they are delivering the desired outcomes. You could be squandering money on efforts that aren't maximizing outcomes or reaching the proper leads if you aren't tracking performance.
How to Avoid It?
It's simple to avoid this blunder: start tracking your data! To guarantee you're driving the best outcomes for your business, use tools like Google Analytics to track crucial data like clicks, dwell time, and conversions.
Final Thoughts
Expanding the reach of your B2B company should be one of your key objectives. Only by boosting your marketing will you be able to achieve this. We can see from the above Are you a B2B Marketer & want to know why your campaigns are not working? Read more to know about the top B2B Marketing Mistakes that it is critical to get to know your audience, use social media to its maximum potential, tell your audience to buy, track and test your efforts, and ultimately, automate.
In this age of the internet and technology, it's important to realize that when deciding on a digital marketing plan, customers have a lot of options for swiftly and efficiently exploring those options. There is no longer any such thing as a monopoly. Your role as a diligent digital marketing agency is to tap into the market as soon as it alters in order to seize the opportunity before your competitors.