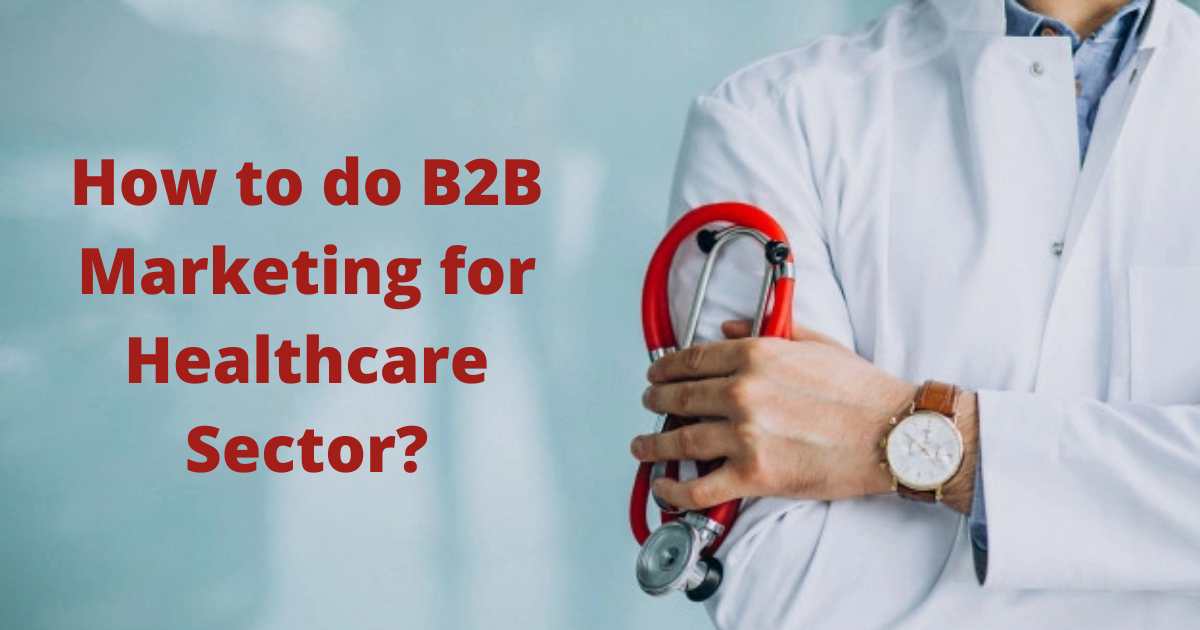 Wondering about how to crack the ideal B2B Marketing for Healthcare and outshine in the industry? In this blog, we will talk about B2B marketing in Healthcare industry and 7 fool-proof strategies for B2B companies to increase their market share.
Well, healthcare is undoubtedly the segment of considerable interest and massive investment opportunities for both B2B and B2C. With a huge market size of USD 320.6 billion, the industry has seen unprecedented growth in the market.
As per a study from Grandviewresearch – "The equipment segment of the healthcare sector is estimated to register the fastest CAGR from 2021 to 2028."
Do you know the major reason? The outbreak of the Coronavirus pandemic. It acted as a catalyst to the growth of healthcare companies as well as B2B marketing for healthcare.
B2B has come a long way to assist hospitals, allied health professionals, and practice managers.
If you know how to create a winning strategy for B2B marketing for the Healthcare industry, you are all set to grow your business in a quick turnaround time. And, if you are curious about how to increase your B2B Healthcare market share, you have landed at the right place.
What is B2B Marketing for Healthcare?
Healthcare B2B and B2C marketing are completely different. While B2C marketing targets the consumer of healthcare products and services, B2B involves selling medical equipment, devices, and services to hospitals and other allied professionals.
Although B2B marketing in healthcare does not deal with the consumers directly, yet the ultimate aim is to make healthcare facilities more convenient and accessible to the patients.
Distinctively knowing the difference between B2C and B2B marketing for healthcare is of utmost importance. Why? Because it ensures that you target the right audience for your product or service.
Looking at the exceptional growth(below), it becomes imperative for healthcare companies to draft a winning strategy for B2B marketing in the Healthcare industry.
Image Source – Precedence Research
7 Effective Strategies to Nail B2B Marketing for Healthcare Sector
We talked to a lot of successful healthcare companies and curated these 7 ultimate strategies to take your B2B Marketing in Healthcare industry to the next level.
1. Create a Buyer Persona
Since B2B Marketing for Healthcare is more challenging than B2C, companies have to be more specific towards creating a targeted customer base. This definitely takes a lot of time and research from your end, but it is well worth the workload. 
Categorize your target audience based on your goals, challenges, responsibilities, demographics, motivations, roles, and behavioral patterns. Creating buyer personas will help you customize your marketing strategy as per your clients.
For instance, the requirements of solo practitioners are invariably different from those of hospitals or pathology labs.
Just like B2C, your approach for B2B Marketing in the Healthcare industry should be customer-centric. The point of difference here is that your customers are businesses. Moreover, since you are targeting businesses, you must have a clear idea of whom you are selling to.
2. Invest in website development
Image Source – Intechnic
The above statistics are also true for B2B customers. Your B2B marketing for healthcare can fail drastically if you are unable to establish an admirable online presence. 
Your website is the face of your business and an impressive one gives you a cutting-edge to get ahead in this competitive healthcare market. It is one of the best ways to attract more customers and adds credibility to your organization.
Since the quality of your website impacts results, consider the below must-haves to create an impact on your clients:
Easy-to-update Content Management System
Responsive user interface
Contact Information such as an address, email, etc
An easy Navigation
A blog
Appealing Call-to-Actions
Social media buttons
Security Features
Chatbots
Incorporating the above features in your website will project your company's advanced capabilities to the digital world.
3. Quality Content Matters
Quality content is paramount in B2B Marketing for Healthcare. Unlike B2C, B2B customers are professionals. They pay keen attention to what is educational or enhances their skills.
You should create content that inspires a feeling of reciprocity, that inspires companies to do business with you. When a solid B2B content marketing strategy is in place, it can bring a plethora of business opportunities.
Ideal content is always a blend of both educational and self-promotional content. Besides, it is also good to look at.
"Good content should be at the heart of your strategy, but it is equally important to keep the display context of that content in mind as well."
Tim Frick
Here are a few ways to make your content stand out amongst your competitors:
Be relevant
Produce original content
Tell a compelling story
Keep it simple and valuable
Focus on analytics
Make it shareable
4. Opt for the Right Distribution Channel
When it comes to promoting your services, choosing the right channel is imperative to make sure you reach the right audience. Creating good quality and unique content is of no use if it is not reaching your prospects.
B2B marketing Healthcare differs from other industries and each channel may work great for others but not for healthcare. Analyze when and where to put your B2B marketing budget that gives you a more accurate conversion.
As mentioned earlier, B2B customers are professionals. A social network that connects the maximum professionals in Linkedin. Agreed that it offers less visual performance than Facebook or Instagram, but it is still the hub of professionals in decision-making positions.
Hence, Linkedin should be the top choice of your distribution strategy for B2B Marketing in the Healthcare industry. Marketers can also opt for other channels as per their research and goals.
Some other channels that healthcare businesses should consider to achieve the objectives of their marketing strategy are:
Organic search
Email
Events and trade shows
Direct Marketing
5. B2B influencer Marketing
Healthcare and B2B influencer marketing? Do they really go along? The answer is a sheer "Yes".
In one study, B2B brands can get an annual ROI with influencer marketing that's 11x the amount of traditional methods. Thus, it makes sense to take advantage of this strategy for your B2B marketing in Healthcare industry.
When we talk about influencers, we are talking about reputed hospitals or solo practitioners having a huge number of admirers.
The first step is to figure out the influencers with an engaged audience. Next, research the social media channels those influencers are using. If the budget allows, you should also consider traditional forms of media such as print, television, etc. The traditional channels also attract a lot of audiences for the B2B healthcare sector.
Taking the example of Dr. Sanjay Gupta, a neurosurgeon in America. He has a follower base of 2.5 million on Twitter. Collaborating with him can be a great opportunity to grow a healthcare business because of his influence over his audience.
6. Leverage B2B video marketing
It is a well-known fact that customers engage more when they watch a video than any other form of content. Additionally, video marketing in the healthcare sector is seeing remarkable growth.
"Video is an effective form of communication that needs to be integrated into each and every aspect of your existing marketing efforts"
James Wedmore
Apart from including videos as a part of your B2B marketing healthcare strategy, make sure the videos are search engine optimized as well. A great B2B video finds the human story within their product while retaining the brand image — no matter how technical it seems at first.
According to a study by Cisco, by 2022, 82% of all internet traffic will be generated by videos. As a result, companies are moving to incorporate videos as much as possible in their marketing strategies, getting incredible results.
7. Track your Success
The final rule of any B2B marketing healthcare strategy should be to measure everything. Monitoring your success at every stage will give you insights into what is working and what is not. 
After all, every marketing strategy is unique and requires dedicated monitoring to track the metrics. Only when you measure, you see the results of your marketing efforts.
Additionally measuring B2B marketing effectiveness metrics will help you to know:
Top performing content
Which of your website pages, blogs, and other pieces are attracting traffic
Landing page performance
Keyword Ranking
Email open rates, engagement and click-through rates, and top-performing emails.
Growth in followers, engagement levels, click-through rates, and conversions
The Bottom Line
Looking at the boom of the industry, it is the best time to invest in good B2B marketing for healthcare. Just as quality education results in knowledgeable students, good strategies and implementation result in an increased market share. 
Your healthcare company needs to educate your customers along with solutions to their requirements.
Be more original, creative, and personal in your approach, and the rest is automatically aligned.
If you still wonder where to start, or need help devising custom tactics for your audience, talk to us! We love talking to new companies and our team is great at brainstorming ideas to help you tap a bigger market share.