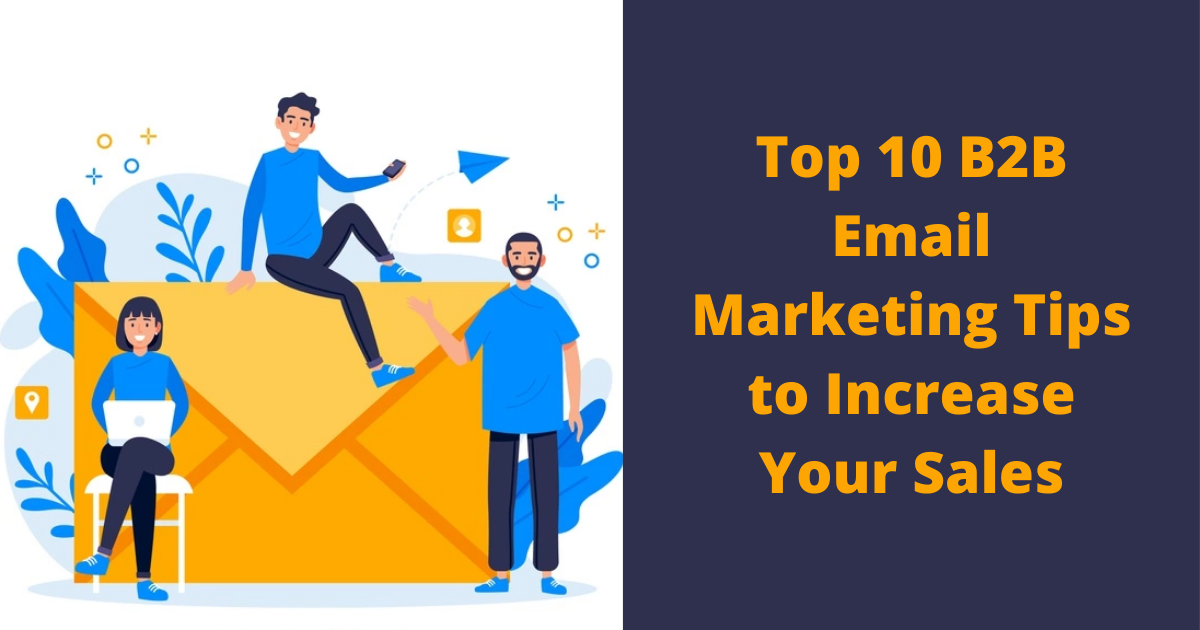 The proverb "Old is Gold" cannot be any more true than for email marketing. Especially in a B2B context, where even the smallest of businesses have an email. B2B Email Marketing Tips do wonders when it comes to practical usage.
However, too often many industrial and B2B companies fail with B2B marketing. They keep on blasting emails only to get dumped later. Do you know Why?
It is because they do not understand the proper role of email in the B2B marketing mix. An average office worker apparently receives 121 emails every day. Getting lost is easier than standing out.
Sure, there are many different strategies to choose for communicating with your audience. Social media, live chat, and so on. However, to make an impact on professionals and drive their interest in your company, email is the king of marketing channels.
We aim to comprehend B2B email marketing for you in this blog. Along with some B2B Email Marketing Tips, we will also guide you on the importance of having a viable B2B email marketing strategy.
Come along to take your B2B company to the pinnacle of success.
What is B2B email Marketing?
B2B email marketing is when you use email marketing to attract businesses or professionals. Unlike B2C, B2B involves the sale of one company's products to other companies by meeting their requirements.
For better understanding, let us take an example. For instance, you are a healthcare B2B company dealing in medical equipment, devices, and services. Who can you sell to?
Well, your target audience should be hospitals, pathologies, or solo practitioners. The hospitals, etc are also businesses that in turn sell their services to the final consumers.
Hence, to communicate with these businesses you need to contact them. Moreover, at the same time, you should market your business as a valuable and professional one.
While many business-to-business (B2B) email marketing tips overlap with conventional business-to-customer (B2C) email marketing tactics, understanding the differences and implementing them holds importance.
In fact, understanding these key differences allows businesses to avoid the mistake of treating email as a prospecting tool.
Image source – Optin Monster
Why Should Every Business incorporate B2B Email Marketing Tips in their Marketing Strategy?
As high as 93% of the B2B marketers use email channels for distributing content. With all the hype over modern channels, why is decades-old B2B email marketing still one of the most effective marketing strategies?
Despite the rise of social media and other platforms, people still use email more than any other platform. The below graph shows the rising number of email users every year.
Image Source – Statista
Hence, it is clear that B2B email marketing best practices can bring in the highest ROI for a business. The below pointers will give you a solid reason to implement the best B2B email marketing strategies.
1. B2B Sales are Based on Logic
Unlike B2C companies, B2B email marketing strategies are based on accuracy and logic. B2C email marketing campaigns are directed at impulse buying or trying to induce customers' emotions.
However, B2B email marketing tips are more focused and logical. Being a B2B company, you need to effectively communicate as much of this information to them as possible in a professional manner.
2. B2B Have Lengthy Buying Cycles
B2B buying cycles often fall around anywhere between three months to nine months. Unlike B2C customers, businesses do not take big decisions right away. Therefore, B2B companies need to nurture their leads over a long time.
This definitely is not possible through any strategy other than viable B2B email marketing best practices. You need to pop in their inbox every week to stay at the forefront of their minds. This ensures that your brand is the first one they think of when they are ready to make a purchase.
3. Content is the Big Wheel
In B2B, most of the time the target audience wants to be updated with the latest happenings and informed about your product or service.
B2B email marketing tips help you nurture these leads by engaging them with interesting content. Being creative with your email content and conveying your message in a creative manner will help you stand out amongst your competitors.
The below image depicts what content can be shared with your B2B customers:
Image Source – Twitter
4. Multiple Decision Makers
B2B decisions involve a lot of professionals. And you need to impress all of them. When you are sending emails, you need to remember you are sending them to a group of individuals. These individuals may be from different fields requiring different information.
Substantial business purchases often happen with a collaboration between multiple departments and managers. Hence, you need to target the company as a whole explaining how your business can help solve its problems.
Top 10 B2B Email Marketing Tips
Here are a few B2B email marketing tips that will be of help to fellow marketers in their marketing journey.
1. Target, Segment, and Understand Your B2B Clients
The very first B2B marketing tip is to think about your clients and understand their needs. Discovering and understanding your target audience will give you a clear idea about where to focus.
If you want your email to resonate with your clients, it needs to hit their preferences.
As discussed above, B2B clients are much more rational than B2C customers. They are already well-informed and less susceptible to whims and recklessness.
Moreover, in B2B as well, there are different types of clients. While implementing the B2B email marketing tips, segregate them and act differently. Here are 4 major types of B2B customers:
Manufacturers
Government Institutions
Business end-users
Resellers
Knowing who your audience is can help you understand what they want from you. Similarly, Segmenting them will help you formulate the ideal B2B email marketing strategies to cater to their specific requirements.
This tip will enable you to create email newsletters that will make them want to open, click and learn more.
2. Create Relevant, Client-centric Content
The email newsletter you create is not for you. It is for your clients. Hence, the relevancy of the content matters. You should focus less on detailing your company and more on the pain points of the clients.
The content of your B2B email should be rational, informational, and profit-based.
People listen to different kinds of music because it makes them feel a certain way. Content is no different. If it is unique, it is definitely going to catch attention. Also, it should be short and concise to be scannable. Most people skim and scan the content in a few seconds and form an opinion.
Here is some customer-focused email newsletter content:

Case Studies
Industry News
Technological Developments
Latest Trends
Problems and Solutions
How-to's
Lists and Tips
Lastly, focus on quality over quantity. Rather than bombarding your clients with emails, give enough time to create, design, and edit the existing emails.
3. Build Lists
What is an email without the recipients? Nothing.
To pull off a successful email campaign, your B2B company needs an active email list. With an email list, you do a multitude of things.
First, you tell your story. Second, you promote your B2B brand. Third, you showcase your products and services, all while trying to persuade subscribers into becoming customers.
It is true that making your own email list takes time but remember; "The longer they wait, The sweeter the reward". Additionally, there are various methods by which you can make an email list.
Here are 8 different ways you can build a healthy email list:

Your existing Clients
Your website subscriptions
Case studies, Industrial News, and Whitepapers
Webinar Signups
Contests or quizzes on your website
Live Chat on your website
Events and tradeshows
Facebook or Linkedin signups
4. Email Campaign Management System
Having an email campaign management system is indispensable for B2B companies. All the B2B Email Marketing Tips will generate great results if you have strong email marketing software.
It helps businesses to manage their mailing lists, create email marketing campaigns and automation to send to customers.
Using email marketing software can be end-to-end assistance to the companies. From scheduling, automating, to measuring success, they do it all.
5. Personalization
Effective B2B email marketing tips include having a personal approach.
Your B2B email marketing strategies will only work well when you create a unique experience for your prospects and customers. And this unique experience can only be a result of a personalized touch.
Image Source – Oberlo
By leveraging the power of personalization, you make the clients feel privileged and special. This in turn motivates them to do business with you.
The below example of a B2C email is the perfect example of personalization:
Image Source – Litmus
6. Subject line, Title, and CTAs
The subject line of your email is the first and last impression on your clients. In fact, the subject line of your email is more important than the email itself. It is the key aspect that decides whether the client will open your email or not.
Next, the Title or header is the most important visual aspect of your email campaign.
You don't get more than a few seconds to entice your clients to your company. This is why you need to tell them everything they need to know right from the title.
Keep the header short, simple, crisp, fun, and relevant to the content in your email.
Lastly, call-to-actions are a great opportunity to present your clients with relevant offers. Keeping them relevant and in line with the email content can generate more leads and sales actions.
Image Source – FinancesOnline
7. Include Videos
One of the trending B2B email marketing tips is using videos in your emails. Visual media is definitely more engaging than text.
You can leverage the power of videos to communicate more information quickly and more effectively.
In fact, a study has suggested that using videos in the email led to a 300% increase in email click-through rates as compared to emails without videos.
Image Source – Oberlo
8. Be Consistent
B2B email marketing best practices involve having a consistent approach. With the right frequency, you can achieve incredible results. Moreover, the correct number keeps the lines of communication with customers and prospects open.
Remember, the clients are already inundated with interruptions, pitches, and advertisements everywhere they look. If you send too many emails, they are only going to land in the archive folder. And if you send too little, the prospects will forget you in no time.
For a B2B company, ideally, you should be sending about 5 emails a month. However, every company has different goals and approaches. Your frequency should depend upon your organizational goals.
By sending timely information that solves current business problems, you show your potential clients that you understand them and their needs.
9. Test Emails
One of the major mistakes that companies do is directly sending emails to clients.
You spend a lot of time and resources drafting an email. Sending it without testing the effectiveness puts all the efforts in vain.
However, sending it only to find out that the email doesn't look so pleasant to your subscribers is even more disappointing.
The look, tone, structure, everything matters a great deal with B2B companies. Hence, every email should be tested before launch.
10. Measure your Email Marketing Success
Last but never least, tracking the success of your email marketing can incredibly boost your ROI.
Tracking results enable you to see how well you performed in the past, as well as identify actionable strategies to improve your results in the future.
All the good email marketing software provides insights by measuring the analytics of your emails. They give you access to reports that allow you to track the key metrics to measure the success of your B2B email marketing strategies.
The Key Takeaway
While an email generates $42 for every $1 spent, implementing the above B2B email marketing tips in your marketing strategy can increase your ROI to the next level.
If you have been ignoring this aspect of marketing, time is now to reevaluate the strategy and generate great B2B sales.
Now that you know everything about B2B email marketing best practices, let us know in the comments what you think about this strategy to grow your business? Have you tried incorporating the B2B email marketing tips in your strategy?