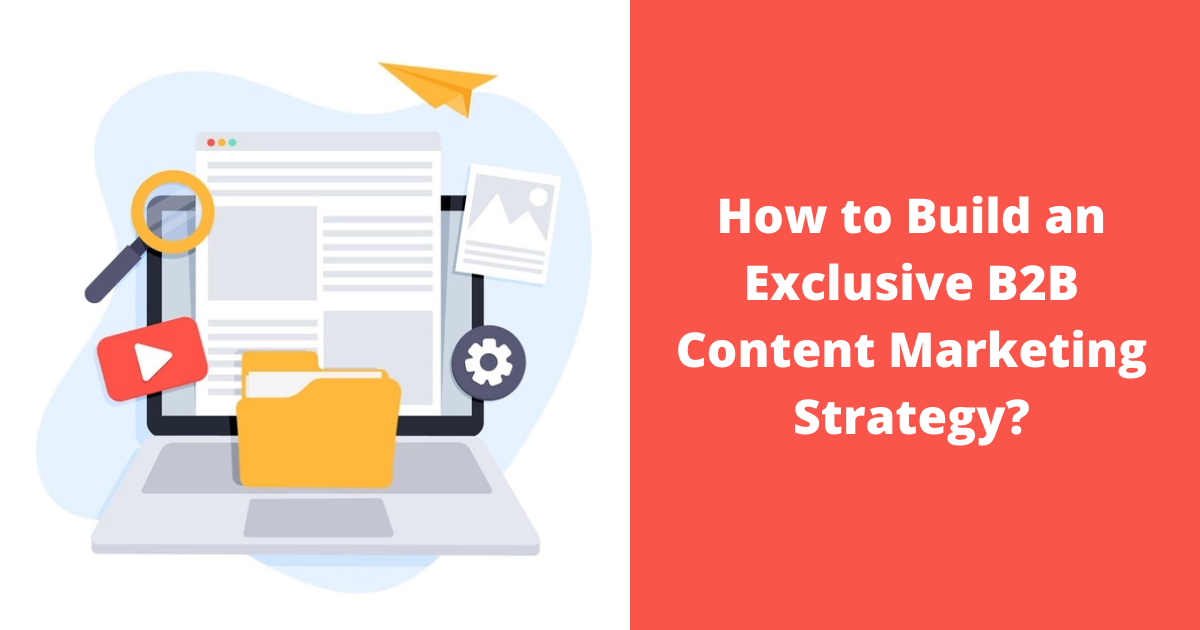 A new study by Backlinko in B2B content marketing strategy suggests half of the B2B buyers say they are more likely to buy from a vendor after reading their content. Ever wondered WHY?
Well, it is because content marketing draws consumer interest in your brand or products naturally without being considered interruptive.
The success of B2B companies today has everything to do with curating the perfect content marketing strategy and delivering on your objectives.
In this article, we will share a step-by-step guide to build your B2B content marketing strategy along with 5 proven tactics that have helped many of our readers overcome content challenges and stay on top of the game.
What is a B2B Content marketing strategy?
Before moving ahead, let us first discuss what is B2B content marketing and what components make an ideal content marketing strategy for B2B companies.
A B2B content marketing strategy is different from a B2C content marketing strategy. Business-to-business markets are special and unique in their own way. They cater to the needs of businesses that further meet the requirements of final consumers.
B2B has lengthier and more difficult decision-making progress since the marketing efforts are aimed at other businesses.
Image Source – Animaker
A good B2B content marketing strategy should:
Align the content between your target customer and target reader
Help build trust in your company
Provide valuable information to your audience
Inspire companies to choose your products and services
B2B content is designed to inform and educate the target customers.
Thus, you should leverage content platforms such as blogs, eBooks, case studies, market research, videos, podcasts, in a way that strengthens your brand reputation and generates more leads cost-effectively.
Key Steps to Build a Content Marketing Strategy for B2B
A successful content marketing strategy for B2B has the potential to solve the critical problems of your potential customers so that they want to know more about your business. 
Blend in the below steps with your marketing goals to formulate the ideal B2B content marketing strategy that generates the interests and leads seamlessly.
1. Defining and Understanding your Target Audience
The content marketing strategy for B2B companies highly depends upon the audiences you want to target. Hence, clearly defining and understanding the type of audience you want to target plays a significant role. 
Only when you know who you are creating your content for, will you be able to create great content. While some of the businesses have clearly defined target audiences, others struggle to research their customer base.
"Amazing Things Happen When You Listen to Your Consumer"
Jonathan Midenhall
Identify the people who should see your ad campaigns and use marketing research methods such as surveying to interact with your audience and understand their needs.
2. Set Content Marketing objectives
The next thing you have to do is ask yourself – what is the reason you want to create content? In what ways can content help you attract more clients? Do you want to create brand awareness or improve customer retention?
Either way, you should set goals to define your B2B content marketing strategy and how you plan to achieve them.
Many companies often create goals that are too vague – like 'we want to increase conversion rate' or 'we want to improve revenue' etc. However, your content marketing objectives should be SMART – Specific, Measurable, Attainable, Relevant, and Time-bound.
Only SMART goals can bring in SMART results.
Image Source – BeeOnlion
3. Create Valuable Content
Content marketing is all about finding solutions to the problems of your potential customers. They want answers, assistance, and guidance – they don't want to be sold to. There should be complete harmony between what you want to publish and what your audience wants to view.
Always remember that your content is geared towards a business or an organization and B2B customers are driven by logic. They are focused on expertise and have the desire to be educated.
You are targeting businesses. Your content should be creative enough to engage busy people. Keep the content crisp and break it up with a blend of different visual media such as images and videos. Being a B2B company, you can use a variety of below content types in your B2B content marketing strategy:
Image source – Uplandsoftware
Apart from creating good content, you should also use a cohesive content management platform. It will help you stay organized and consistent with your content.
4. Pick Content Distribution Channels
Today, without a well-planned content distribution strategy, even the most stunning idea may not be discovered by your target audience. As harsh as it may sound, but it's something that most marketing professionals seem to do wrong.
Marketers need to understand what B2B content marketing is and pick their distribution channels wisely. Well-planned content distribution can connect them with their prospective clients and help in getting better rankings at the SERPs.
As a B2B company, your distribution strategy should be strongly based on your organization's goals, content, reach, analysis, and SEO.
The well-known American company General Electric currently records 3.7 million monthly visits and 100,000 subscribers. But, what is it about this energy company that makes it so successful?
Well, the in-depth reporting style and exceptional creativity have helped the company campaigns like below go viral.
Image source – Econsultancy
5. Measure and Analyze Results
Why is tracking the success of your content marketing strategy important? The answer – It helps you identify what is working and what areas need improvement.
Do you know that 61% of top-performing organizations regularly track their content marketing progress? They do it to change their strategy whenever required and stay ahead of their peers.
There is no fit-in strategy made for B2B companies. Every strategy is unique and gets better with time. Experiment with what works best for your organization and eliminate what doesn't.
B2B marketers can optimize campaigns for better engagement through Google Analytics, Buffer, Hootsuite, Hubspot, etc.
Top 5 Tactics to build an ideal B2B content marketing strategy
Creating good content is of no use if no one knows it exists. Connect the dots of B2B marketing by promoting your content through a wealth of channels available.
Let's check out the content marketing tactics used by the top-tier companies to take your inbound marketing campaigns to the next level.
1. Leverage Social Media
As a B2B company, you cannot ignore social media. On the top of the list – Linkedin is a great channel used by all professionals and people in decision-making positions. It is a potential pot of gold that provides you with a direct line of businesses.
Image Source – Ironpaper
Other platforms such as Facebook, Twitter, Youtube, etc also work well if you are trying to increase your brand awareness.
All these platforms are great for sharing opinions, blog posts, video content, white pages, industry studies, etc.
The real benefit of leveraging social media in your content strategy is that it tends to widen your reach to your target audience. The traffic and shares that you can get from social media platforms are great.
2. Take Advantage of Paid Promotion
Paid Promotion allows you to amplify your reach and fetch you some quick wins.
With the Paid promotion, the chances that your target market ends up purchasing your products or services get higher. Hence it is an undeniable fact that paid media is crucial for the success of a B2B company.
You can leverage paid promotion across Google ads, Facebook ads, Twitter Ads, and even Reddit to boost your content to new audiences. The bar chart below depicts the effectiveness of each channel.
Image source – ContentMarketingInstitute
3. Write Search Engine Optimized Content
SEO should be the essence of a B2B content marketing strategy. But Why? 
Optimizing your content for search engines can drastically increase the value of your content marketing efforts by converting targeted traffic into prospects. Having strong organic visibility is a proven way of generating quality leads.
Blogging is one way to increase your website's visibility in the SERPs and enables your business to engage with other businesses.
A lot of factors such as user experience, originality of the prescribed content, mobile-friendliness, backlinking, and a lot more contribute to Google's ranking algorithms.
4. Get a Cutting-edge through Email Marketing
The idiom 'Old is Gold' holds true when we talk about email marketing. If done right, email marketing still delivers great results. But the question is, how can it be done right?
By defining a healthy e-mail send list, providing valuable information, and pressing the pain points of the prospects.
The below figure shows the popularity of email marketing amongst B2B marketers.
Image source – Pinpointe
Including catchy subject lines, attractive CTAs, images or videos, and social sharing buttons are some of the best practices to increase open rates and click-throughs.
5. Utilize The Power of Collaborations
Most B2B companies underestimate the power of cross-pollination and hesitate in collaborating. However, marketers who truly understand what is B2B content marketing leverages this undervalued tool to their success. 
Partnerships can help to amplify your content in a way that builds credibility and establishes your online authority in the market.
It is a win-win for all the parties involved as it gets your content in front of more people and ultimately drives more business.
Yet, remember to collaborate with the companies complementing your business and not your competitors.
Conclusion
Creating a B2B content marketing strategy presents all kinds of challenges across all stages of content creation, distribution, and promotion.
However, when you consider the above guide, you can thoroughly understand what is B2B content marketing and devise a sound strategy that augments growth and widens your audience base. 
At the heart of content marketing for B2B companies lies this question – How does your business support the needs, interests, and challenges of other businesses? Answer it, and you'll be on your way to pioneering the content marketing game.