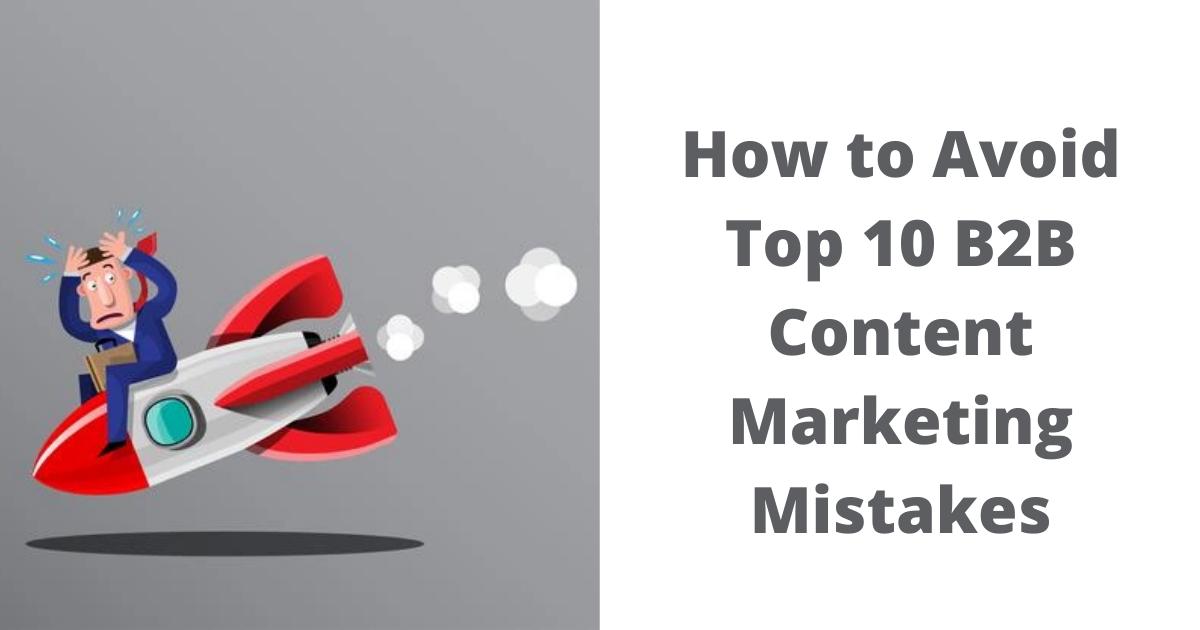 Are you putting your heart and soul into the B2B content marketing of your company, yet nothing is happening? Hardly any clicks, no conversions, no shares, barely any dwell time? Well, 9 out of 10 B2B companies that use content marketing tend to make huge B2B Content Marketing Mistakes that cause their downfall. 
Although content marketing is a powerful form of marketing that has helped several companies grow their business. Getting it right is the key.
Take an example of TED. with over 20 million subscribers over Youtube, TED experienced substantial growth through its incredible free content.
Having said that, even though content marketing is the new hit, why do companies fail at it?
Image Source – Upland Software
The above statistics are proof that they are committing some mistakes in B2B content marketing without realizing it.
However, we are here to save you from making these devastating B2B Content Marketing Mistakes and help scale your business.
Before moving ahead to the mistakes in B2B content marketing let us first understand why is content marketing important for your B2B company and how can it help to outshine your brand name in the market.
Why do B2B Companies Need a Content Marketing Strategy?
Today, B2B marketers are lessening their reliance on traditional marketing and generating high-quality leads for less money.
In fact, digital marketing has proven to be better than the traditional ways of marketing. About 70% of the audience wants to learn about offerings through content versus traditional advertisements..
Having a good content marketing strategy aims to ease the decision-making process for the clients and helps them to thoroughly understand your products and services.
Thus, the need for content marketing for B2B is on the rise because of its innumerable benefits to the businesses as well as the customers. Below are some other compelling reasons to understand why content marketing matters in B2B.
1. It generates new valuable business leads.
2. It improves search engine ranking and online visibility
3. It cultivates a thought leadership culture by creating new content on a regular basis.
4. It saves businesses a lot of time.
5. It is inexpensive.
6. B2B Content marketing combined with Social media can drive web traffic considerably.
7. It improves customer loyalty and retention
8. Data from B2B Content marketing opens the door for incredible customer insights.
9. By fostering a customer following, it helps in building a community.
Top 10 B2B Content Marketing Mistakes to avoid
There are so many mistakes in B2B content marketing that companies make and fail miserably. Here are the top 10 B2B Content Marketing Mistakes to watch out for and the best ways to rectify them.
1. Creating Vague, Under-researched Content
Creating content just for the sake of it is not going to get you any results. Why would anyone want to consume your content if it doesn't directly speak to them?
You definitely can not sound like a novice especially when people will be reading your content.
Content that is too generalized is like a bad dish. And no one likes their food bland and tasteless.
Often B2B companies produce generalized content that doesn't solve the clients' problems. It lacks industry focus and doesn't have a niched-down audience.
Professionals are interested in content that adds value to them, solves their problems, keeps them updated with the current trends, and is engaging.
To avoid B2B content marketing mistakes like this, companies should focus on creating personalized content that connects with them.
2. No Target Audience
This is one of the very common mistakes in B2B content marketing. Companies do not niche down their audience.
The below graph shows audience research is most important in content marketing.
Image Source – CMA Solutions
Creating content with no audience in mind can be a complete disaster. If it does not resonate with the visitors the bounce-back rates will increase resulting in a negative impact.
Targeting your customers helps you to know your customers, their pain points, and their motivations.
Take an example of Shopify, an e-commerce company that grew exceptionally through its content marketing strategy. Shopify business encyclopedia creates content for businesses by providing them with easy and understandable definitions for business terminology.
Similarly, creating buyer personas gives you a purpose to create personalized content for different segments.
Only when you listen to what your customers are asking, you'll be able to provide them with what they need.
3. Not Using Any Visuals
What cheese is to Margherita, visuals are to Content.
Imagine creating content without any visuals, breaks, or infographics. Your audience will lose interest eventually.
Image Source – Postcron
The B2B content is not a textbook, it is your gateway to create an impact on the readers' minds.
Without visuals or infographics, your content becomes boring. And no one likes to read or share boring content.
To keep readers flock to your website, you need to create interesting content.
Furthermore, the world of B2B content is getting more and more competitive. You need quality content to win the hearts of your readers.
4. Not Promoting Content
If you are creating content, publishing it, but not promoting it, no one will get to know about it.
There are innumerable ways to promote your content. From social media to email marketing, your doors are wide open.
Leverage the relevant channels to promote your content so that it reaches more people.
While content marketing provides the actual valuable information, how-tos, guides, and much more, social media and emails promote that content to a bigger audience.
Once you choose where to promote what, be consistent with each channel. Consistency is the key with B2B. Too much will drive your clients away and too little will make them forget about you.
5. Unrealistic Expectations
If you are inspired by some viral content that got hit and made millions the next week, Calm down.
This does not happen generally with B2B. Content marketing takes time and the B2B buying cycles are already lengthy.
You need to have tons of patience and set some realistic goals with timelines for your content marketing to show results.
If you are a small stationary B2B company, it is unlikely that you'll have a million Instagram followers. Set reasonable goals and have the correct metrics and KPIs in place to accurately track progress.
6. Neglecting Search Engine Optimization
This is one of the biggest mistakes in B2B content marketing.
There are many marketers who believe that SEO is dead. It is certainly not true. In fact, SEO plays a key role in defining the success of B2B content marketing.
Do you know that over 90% of the people never get past the first page of Google? That is the power of SEO.
Organic traffic is incredibly important for B2B companies as it helps you rank higher in SERPs and garner more visibility online.
Your website content should act like a sales funnel moving the prospects toward a sale with you, no matter where they began their process.
7. Not Nurturing your Leads
Image Source – Slideshare
The goal of content marketing isn't just generating leads or traffic. Unless and until you are able to convert them into sales, all your efforts go into vain.
B2B companies that nurture leads generate 50% more sales-ready prospects at a 33% lower cost.
Developing and reinforcing relationships with prospects at every stage of the sales funnel is a must for B2B companies.
Always create a strategic lead scoring system that can help you to prioritize and nurture the prospects that matter.
Additionally, maximizing touchpoints can help businesses capitalize on the timely opportunities they get at each touchpoint.
8. Not Personalizing Content
If you want to avoid B2B content marketing mistakes altogether, start personalizing your content.
Unfortunately, a lot of B2B companies do not personalize content in the attempt of targeting everyone. However, tailoring your content to individual companies can help increase the overall effectiveness of your marketing efforts.
Research by Forbes shows that 75% of prospects prefer buying from a brand that knows their name and purchase history. In a B2B context as well, professionals prefer vendors who spoke directly with the company with their content.
The use of B2B content marketing is steadily on the rise. In this world of advertisements, customers expect the content that speaks to them.
Hence, B2B companies must offer personalized experiences not only to differentiate themselves but also to survive.
9. Neglecting Analytics
Once you have set the goals and your plan is in place, you need to measure your results to know if your efforts are working.
Most B2B Content Marketing Mistakes remain undiscovered due to the mistake of not measuring results.
When we suggest you measure the results, we just don't mean one metric. Different goals require multiple metrics.
Image Source – Social Bakers
You already have a plethora of content. Analytics can give insights into which pages are doing well and which you should improve.
Measuring short-term goals and ROI can help companies achieve the goals they have set in the first place. Moreover, measuring results supports the decision-making process of the management.
Furthermore, the metrics you choose to determine your success will highly depend upon your goals, strategy, channel, and content.
10. Undermining the Value of a Documented Content Marketing Strategy
Another reason why most B2B content marketing efforts fail is that marketers have no documented strategy.
Creating a strategy involves many things such as competitor research. Look at why some of your competitors are successful while others aren't. What are the things that inspire you and how can you avoid B2B content marketing mistakes that your competitors made?
According to the Content Marketing Institute, only 35% of B2B marketers have a documented content marketing strategy.
The success of your B2B company has everything to do with a documented content marketing strategy. Furthermore, it helps you to define your marketing goals and set priorities.
With a full-fledged strategy, B2B marketers can ensure that every bit of effort put in by them translates into tangible results.
How to Avoid B2B Content Marketing Mistakes
If every marketer knew how to nail content marketing, no one would have failed. However, knowing major mistakes and ways to correct them does most of the work.
Here are 5 ways by which you can avoid B2B content marketing mistakes.
1. Create SMART Goals
Your B2B content marketing strategy should be centered around SMART goals so that you avoid unattainable objectives. SMART goals help you to remain focused on what you want and show you a clear path to success.
2. Create Content with Customers in Mind
Always create content for the customers. It is them who will benefit from it. Steer clear of generalized, fuzzy, and boring content. Segment your clients based on their needs, priorities, etc, and create content with each segment in mind.
3. Have Fun
Creating content that involves an element of fun captivates the users. People generally like content that is different from everyone in the industry. They like to relate to your company on a personal level. Showcase your work environment, team outings, and whatever you feel accounts for fun and wit.
4. Foster a Community
Creating a community is very important for B2B marketers. Impactful communities add value to your business and help the clients make strategic connections. However, while creating the community, research the social media channels used by your audience. For instance, many B2B companies create communities on Linkedin.
5. Don't make it all about Sales
Making it all about you and promotional offers drives away the prospects. Great content isn't just about selling. It is about adding value to your prospective customers. Find the right balance between selling and offering useful information to your target audience.
The Key Takeaway
Now that you know all the major B2B content marketing mistakes, you also know how they can be fixed.
Quality content is the most powerful aspect of digital marketing. Leverage that to your benefit and create amazing content to attract, engage, and convert leads.
In that spirit, if you want to know more about how to improve your B2B content marketing strategy, reach out to us in the email below.